CALQL8 Investments - global company turns out to be a mini-company
26.04.2023
Our in-house research department has already been able to gather some important information about the CALQL8 Investments platform. CALQL8 Investments pretends that investors are provided with excellent opportunities to earn fast and safe money at the same time with participation in the form of shares. With CALQL8 Investments, everything is investment fraud. Everything that the investor sees on his screen is fraud. No money has been invested. Nothing is traded on calql8investments.com. The money went straight into the pockets of the investment scammers. Have you had the same experience? How do investors get their money back from dubious providers? What can investors do who have been scammed by CALQL8 Investments? What help is available in case of investment fraud?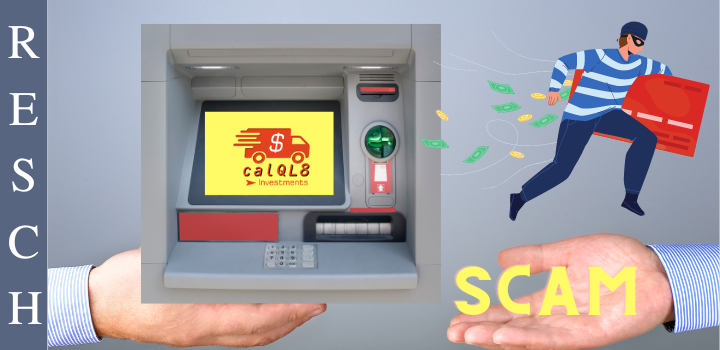 CALQL8 Investments: Promises on calql8investments.com are dubious and unserious
What are the astonished prospective customers on www.calql8investments.com made to believe? You have noticed that the website calql8investments.com makes a very professional impression. A direct approach and supposedly interesting offers from the cash-in-transit (CIT) and cash-handling industry. Who wouldn't want to be part of the success story and buy shares in this company? All this seems so convincing. Unfortunately, shady business practices tend to make for unhappy investors and bad experiences! It is only a matter of time until the regulatory institutions become aware of CALQL8 Investments and warn about its questionable activities.
CALQL8 Investments: Who is behind it?
Because the CALQL8 Investments makers are doing everything they can to conceal the true circumstances, investors might have a hard time answering this question. This is not unusual, because the perpetrators usually run several of these websites with the same fraudulent business model. Such are produced continuously, uploaded to the Internet one after another, and taken offline just as swiftly, moreover, the top-level domain is often changed to confuse financial regulators and law enforcement agencies. The CALQL8 Investments site does not contain a revealing masthead, which is intended to prevent the perpetrators from being too easily identified. The domain data of the website calql8investments.com also contains no indication of who once registered the site, but only that the registration was made on June 11, 2021, with Tucows, Inc. and that the real domain owners - quite expectedly - are hiding behind a common anonymization service.
But who is running CALQL8 Investments?
The website calql8investments.com is available in English and German, which raises questions per se since it is a Canadian company. Should investors from German-speaking countries be deliberately targeted here? Besides the obligatory support email address info@calql8investments.com still the telephone numbers (+1) 506-317-1280 (US) and +44 (0) 208 089 7940 (UK) are specified to the potential investors, which does not permit however any conclusions on the operators of the platform. The website also presents various addresses, such as 214-96 Norwood Ave. in Moncton, NB E1C 6L9, Canada. If one decodes this information with the help of possible information in Canadian commercial registers, it becomes Suite 214 at 96 Norwood Avenue in Moncton.
CALQL8 Investments: Rented mini-office
Suite 214 doesn't exactly sound like an up-and-coming cash-in-transit company with large offices that are bustling with activity. So what do you find when you go to said address? You find the ABC Business Centre, a provider of office space and office services. Well possibly that the CALQL8 Investments here a small unit for itself claims, however, this is probably by far not that, which the bona fide shareholders imagined when they thought of this - if one may believe the data on the Website - rising enterprise. The same applies to the addresses in the United States and the United Kingdom. No sign of any CIT flagship company, just the usual office services providers.
CALQL8 Investments: Hardly any signs of business activity
Moreover, we can't see any notable activity from CALQL8 Investments lately, which is rather atypical for a company that wants to make it big. Thus, it is at least debatable how valuable the shares of CALQL8 Investments, which were sold to investors here, actually are and what these share sales were all about. In addition, it must be closely examined whether the company is as substantial as it claims to be. If not, then there are further legal consequences.
CALQL8 Investments: International Searches
The worldwide search for CALQL8 Investments in the relevant registers leads to one result. CALQL8 Investments is therefore at least no fantasy product because one finds it in the trade register of New Brunswick in Canada, the company number is 720068. So far so good. However, we are puzzled why, when researching this company, the information comes up that it is sometimes a used car dealer. With our research tools, our investigation team was able to track down the investment fraudsters. Many aspects of this case overlap with other cases we have already successfully investigated.
CALQL8 Investments: Scheme of the Investment Fraud
The investment fraud runs conspicuously according to the same scheme: investors initially put in a small sum - usually 250 euros - and quickly experience how this amount multiplies, so that they are ready to "invest" higher and higher sums. The worries begin, immediately when investors want to have their money paid out, because then ostensibly at once taxes, commissions, fees, or anything else must be paid. Unfortunately, many investors discover much too late that they have fallen for investment fraud and never had the intention to pay out the money again.
CALQL8 Investments: What help is there for investment fraud?
What to do in case of investment fraud, many desperate investors ask themselves, because criminal charges hardly make sense, since criminal charges are mainly for prosecution, but not for recovering the money. What help is available for investment fraud and how do injured investors get their money back? A lawyer specializing in investment fraud must know how to follow the money trail because as they used to say, money is not gone, but unfortunately somewhere else. Now one can add: It is not easy, but with the right tools it is possible to trace money systematically digitally - even if it was deposited with Bitcoin via a Crypto Exchanger.
RESCH Rechtsanwälte GmbH - Experience in investor protection since 1986
If you have been a victim of CALQL8 Investments and want to know if and how you can get your money back, call +49 30 885 9770 or fill out the questionnaire. You will receive a free assessment of your case.