Byron Stafford - Singapore investment scam
Numerous investors have fallen for the promises of brokers from Byron Stafford. They realized too late that Byron Stafford is a sham company supposedly based in Singapore. But it's all pretense, not reality. There is no business, all fake. Byron Stafford's defrauded investors are wondering how to get their money back. What help is there for investment fraud?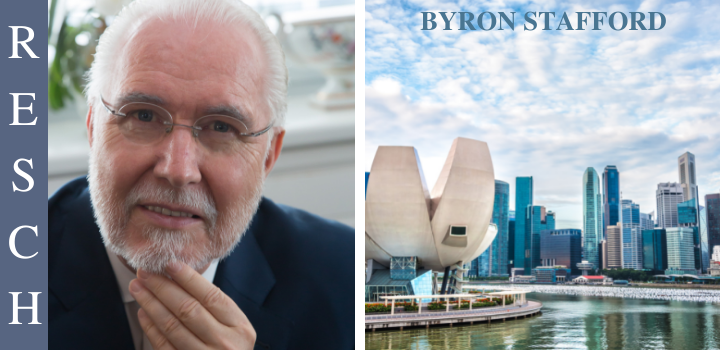 Byron Stafford: How to recognize investment scammers?
There is no imprint on the website, but there is a contact form without phone numbers with a reference to Byron Stafford with the following address: Singapore Land Tower, 50 Raffles Place, 048623, Singapore. However, if you search for Byron Stafford in the 48-story Singapore Land Tower in the Central Business District in Singapore, you will unfortunately not find anything. And not only there, but also in the company register Byron Stafford is not to be found. Even if one undertakes a worldwide search, Byron Stafford remains a phantom. This is yet another of the many fake companies that are up to mischief on the Internet.
Byron Stafford: Hide and seek with the domain entry!
But maybe the domain entry of the website byron-stafford.com provides further information about the companies involved. But also here the game of hide and seek continues. The website was only registered on 30.07.2019 and this via the company GDPR Masked. Who would want to hide and protect their privacy via a web service provider? If you analyze the website more closely, you also notice that the photos come from image databases. Fake again, to deceive the Internet visitors.
Byron Stafford - Dubious business practices!
The same scheme of investment fraud can be found here again and again: as soon as the customer has registered on the trading platform, he receives calls from alleged financial brokers, who like to refer to their years of experience and their satisfied customer base. Thus, the various phone numbers are used again and again in a wide variety of fraud schemes. In some cases, customer data from other transactions is also resold and further business is initiated. In many cases, the perpetrators of this business model are suspected fraudsters, against whom the Federal Criminal Police Office and the Federal Financial Supervisory Authority (BaFin) also issue warnings. BaFin has published a warning list with the corresponding cases of investment fraud in Germany, FMA for investment fraud in Austria and FINMA for investment fraud in Switzerland. Do "Richard Chow Hswuan, Chairman and CEO of Byron Stafford", "David Din Hwa, Board of Directors", "James Fitzpatrick" and "Klara Solomons" and "Darek Kwoon" of Byron Stafford also belong to it?
Byron Stafford: deception with big names and bogus profits!
Again, we have the phenomenon that the creators of trading platforms advertise with big names like Alibaba and offer supposed big deals. This is also true for the IPO of Invivo Robotics. "Institutional blocksales" are probably again an invention of our alleged stock market experts. There are also inconsistencies in the order confirmations of Byron Stafford, for example, unusual abbreviations such as "BABA:US" are used instead of just "BABA". The fees charged are also incomprehensible and completely implausible. Particularly dubious, however, is when supposed profits are displayed on the trading platform in order to seduce the customer into further high stakes. However, an exit is then usually no longer possible, rather a repayment of the money is linked to absurd conditions or even further deposits.
Byron Stafford - tracks to the financial hub Hong Kong!
Let's also take another look at the payees Aircamio Technology Company Limited and HK Yung Xin Trading Co. Limited. Aircamio Technology Company Limited, which was registered under registration number 1919472 in the Hong Kong Companies Registry in 2013, also acted as the recipient for the unsuspecting traders' funds. Similarly, HK Yung Xin Trading Co. Limited was established and used as a payee in 2019 under registration number 2813828. These two companies are allegedly acting as so-called financial agents through which investors' payments are to be processed and disguised. That accounts at the Bank of Bank of China and also HSBC are used for this purpose is well known to us. The trail of the investment fraud leads to Hong Kong. Here, too, we cannot understand why the payments cannot be executed in the financial center of Singapore.
Byron Stafford - In the sights of the financial supervisory authorities!
The Belgian Financial Supervisory Authority FSMA warned the public on 27.03.2020 about the activities of Byron Stafford and put the company on its warning list. Here, the financial regulator referred to the fact that this could be a case of fraudulent activity and still referred to the phenomenon of "boiler room fraud". What is it? The term "boiler room scam" is also used here to describe a particularly perfidious form of fraud. In this case, the fraudsters usually operate in call centers and make cold calls in order to sell alleged investments to unsuspecting investors as supposed investment advisors. However, these are usually not real securities or are in any case sham transactions. An example of this is the "Milton Group", which was exposed in 2020 and is said to have ripped off investors in many countries around the world from a call center in Kiev. Similarly, the warning list of the Belgian Financial Supervisory Authority includes companies that are not registered or authorized to conduct financial transactions. This also shows that the Belgian financial supervisory authority will have come to the conclusion that Byron Stafford is a fake company. By the way, the Italian financial regulator CONSOB followed suit on 06/04/2020 and put Byron Stafford on its warning list.
Byron Stafford: What to do in case of investment fraud?
If investors had known all this, they would certainly never have gotten involved in this business with Byron Stafford. Investors will now be asking themselves how they will get their money back and whether it hasn't long since gone somewhere else. These are legitimate concerns and questions that an attorney specializing in investment fraud can answer.
Byron Stafford: Following the money trail!
For over 30 years, the investor protection law firm Resch Rechtsanwälte has been pursuing such abuses on the gray capital market. In this respect, the activities of Byron Stafford are nothing really new. As lawyers focused on investment fraud, a toolkit has been built up to follow the money trail. In the age of the Internet, it has become very difficult to make funds truly disappear. The important thing is that the defrauded investors act IMMEDIATELY. The faster investors follow the money trail, the greater the chances that they can have their money secured! Every day counts!
RESCH Rechtanwälte: Experience in investor protection since 1986
If you have been a victim of Byron Stafford and want to know if and how you can get your money back, call +49 885 9770 or fill out the contact form. You will receive a free assessment of your case.