Breaks Wealth – Lost Money To Crypto Scams?
13.06.2023
Our research department has gathered important information about Breaks Wealth. Breaks Wealth claims to offer perfect opportunities for investors to make fast and secure money through trading in foreign exchange, cryptocurrencies, stocks, commodities, as well as cannabis investments. However, everything about Breaks Wealth is an investment fraud. Not a single cent is invested. The money goes directly into the pockets of the investment scammers. Nothing is traded on breakswealth.com. Everything the investor sees on their screen is meant to deceive. Can you share similar experiences? How can investors recover their money from unreliable providers? What help is available for investment fraud? What can investors do if they have been scammed by Breaks Wealth?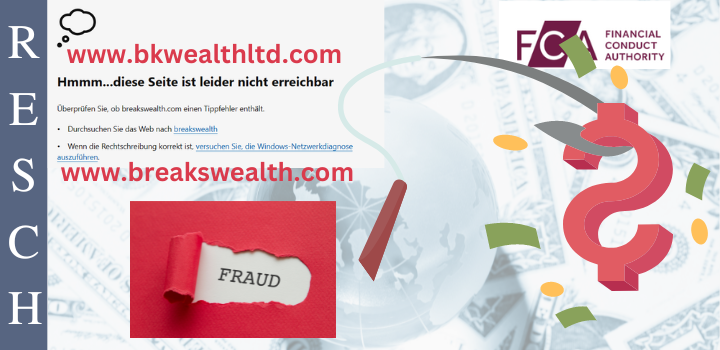 Breaks Wealth: Promises on breakswealth.com are unreliable
What do bewildered visitors read on breakswealth.com? "Our founders were aware of the importance of responsible investments when they established the company over 7 years ago. For us, it has always been about thinking long-term and considering corporate performance from a broader perspective. As the role of the economy in society is constantly evolving, we believe that our focus on responsible investments promotes positive change and better performance." Unfortunately, this suspicious business behavior leads to unhappy investors and bad experiences!
Breaks Wealth: Who is behind it?
The Breaks Wealth websites do not provide an imprint, making it difficult to identify the perpetrators. The domain data for the websites breakswealth.com, bkwealthltd.com, and breakslimited.finance does not indicate who registered them. The websites were registered on 13/05/2021, 27/05/2022, and 14/12/2022, respectively, with NameCheap, Inc. The domain owners hide behind the Icelandic anonymization service Withheld for Privacy ehf.
But who operates Breaks Wealth?
The perpetrators often operate multiple websites where they offer their fraudulent business model. It was not surprising that in this case, there are several domains attributed to the same group of criminals. Not only did multiple domains related to Breaks Wealth appear, but we also established connections to the enigmatic platform kay-trading.com.
But who operates this construct?
Regarding Breaks Wealth, we can state the following: In addition to the email addresses support@bkwealthltd.com, support@breakswealth.com, and support@breakslimited.finance, potential investors were offered the British phone numbers +44 7576901345 and +44 7888878050. However, this does not provide any insight into the platform's operators or their actual location. The provided address is 70 Market Street, Tottington, Bury, Lancashire BL83LJ, in the United Kingdom. It is a place with around 10,000 inhabitants, not far from Manchester. It is a beautiful, peaceful town, but we could not find any traces of a company named Breaks Wealth there, as it is just a fictitious address.
Breaks Wealth: International Investigations
The global search for Breaks Wealth in relevant registries leads to one result. A Breaks Wealth Management Limited can be found in the United Kingdom's trade register, registration number 09170812. The director of the company is Paul Breaks, born in 1958, who is also the namesake of the company. So far, so good. However, this same Breaks Wealth Management Limited appears with the domain breakswm.co.uk, indicating that something is amiss.
Breaks Wealth: Identity Theft
It turns out that the pertinent data of Mr. Breaks' legally operating company is being misused by scammers to appear legitimate. A clear case of identity theft! However, with our research tools, our investigation team has managed to trace the trail of the investment scammers. They leave important traces on each of their websites and during contact with investment fraud victims, which we are now analyzing and tracking.
Breaks Wealth: Targeted by the British FCA
On 27/05/2022, the FCA issued the following warning: "...Fraudsters are using the details of firms we authorize to convince people that they work for a genuine, authorized firm. Learn about this 'clone firm.' Details of clone firm - Fraudsters are using or giving out the following details as part of their tactics to scam people in the UK:
Breaks Wealth (Clone)
Phone: +447576901345, +447888878050
Email: support@bkwealthltd.com, support@breakswealth.com
Website: bkwealthltd.com, www.breakswealth.com...
The authorized firm for which the scammers claim to work has no association with the 'clone firm'... The correct details are:
Company Name: Breaks Wealth Management Ltd.
Company Registration Number: 631639
Address: Stoneholme, 42 High Street, Bury, Lancashire, BL8 3AN, UK
Phone: 4401617649944..." Breaks Wealth (clone of Appointed Representative) | FCA
Breaks Wealth: Investment Fraud Scheme
Investment fraud follows the same pattern: Investors start with a small sum, usually 250 euros, and quickly see that amount grow, leading them to invest larger sums. Conflicts arise when investors want to withdraw their money because suddenly, taxes, commissions, fees, or other payments need to be made. Unfortunately, most investors realize too late that they have fallen victim to investment fraud, and there was never any intention of returning their money.
Breaks Wealth: What Help is Available for Investment Fraud?
Many defrauded investors wonder how to act in cases of investment fraud because filing a criminal complaint hardly makes sense, as criminal complaints primarily serve law enforcement, not the recovery of funds. What kind of help is available for investment fraud, and how can affected investors get their money back?A lawyer specializing in investment fraud knows how to trace the money because, as the saying goes, money doesn't disappear; it just moves elsewhere. At present, it can be added that it is complex, but with the right tools, it is possible to systematically trace digital money, even if it has been transferred through a cryptocurrency exchange like Bitcoin.
RESCH Rechtsanwälte – Experience in Investor Protection since 1986
If you have become a victim of Breaks Wealth and want to know if and how you can recover your money, call us at +49 30 885 9770 or fill out the questionnaire. You will receive a free evaluation of your case.