Is Bostoncapitalpty.com Legit? Our rating and experience
02.08.2023
In a world where the Internet is playing an increasingly important role in financial transactions, we are faced with challenges that are more complex than ever before. Online investment platform Boston Capital is at the center of one such investigation, as its lack of transparency and verifiable information could be a signal of possible fraud. The negative experiences and "bad reviews" we have received are piling up, so we have to question whether everything here is as reputable as Boston Capital's alleged management would have us believe. We believe that they are trying to scare traders into falling into a nasty investment scam! Below you will find a detailed analysis of the platform based on our research.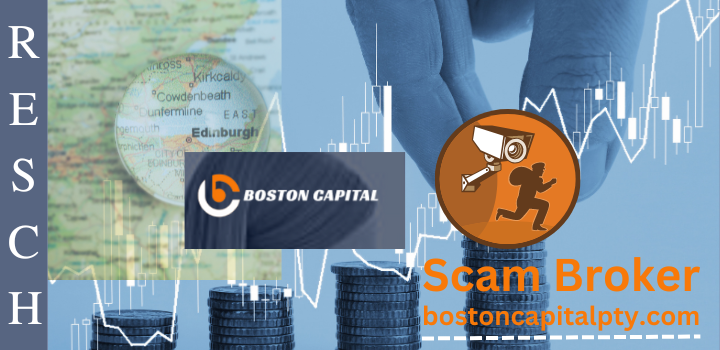 Professional appearance and the illusion of security
Boston Capital presents itself with a - at least at first glance - professionally designed website and promises interesting offers and high profits on its investment portal. Unfortunately, this often leads to a false sense of security for unsuspecting investors. They can easily be fooled into thinking that they are just playing a game and that their money is never used for trading purposes but ends up directly in the pockets of the perpetrators.

Dubious identity and hidden operators
The Boston Capital website does not provide a clear masthead, and the domain information fails to identify the operators. The domain was recently registered on 06/03/2023 with NameSilo, LLC, but here the owners hide behind a popular anonymization service. No phone number, and no clear indication of the real location - only an address in the United Kingdom (1st Floor Office, 86a Constitution Street, Edinburgh, EH6 6RP), which did not yield any usable leads during our investigation.

Inconsistencies and possible misuse of identity
Investigation of various commercial registers leads to a Boston Capital LP registered in the United Kingdom, registration number SL016691. However, there are significant discrepancies, such as the company's registration date in 2014, while the website was only launched in mid-2023. This could indicate that the fraudsters have simply misused the registered company's details to appear legitimate.

Tracking the fraudsters
Thanks to modern research tools, our investigation team was able to find traces of the alleged investment fraudsters. The analysis of these traces could be crucial in revealing the true nature of Boston Capital, and it is only a matter of time before regulators (such as Germany's BaFin, Switzerland's FINMA, or Austria's FMA) also take notice of this newcomer to the market. At least the UK's FCA already has Boston Capital on its radar, warning against doing business with the company until June 30, 2023.

Summary
The analysis of Boston Capital paints a grim picture of a platform that is carefully designed to inspire trust, when in fact it shows many signs of potential fraud. The website's professionalism and seemingly attractive offers could easily trap unsuspecting investors. The discrepancies in the registration information and the lack of verifiable contact details add to our concerns. Although identifying the perpetrators is a complex process, the work of our in-house investigative team is laying the groundwork for further investigation, and the hope remains that justice will eventually prevail, sooner rather than later.

Have you also been promised the blue sky described here by Boston Capital (Bostoncapitalpty.com) and now you don't know if and how to get your money back from this rogue provider? Do not hesitate to contact us! We have been active in the field of investor protection since 1986, and our experienced attorneys will review your case with you free of charge and without obligation. Please use our contact form or give us a call: +49 30 8859770.