Bitfinance Forex - Review: Misappropriated funds
21.11.2022
Bitfinance Forex gives the impression that investors are provided with ideal opportunities to make money in CFD and Forex trading, as well as cryptocurrencies, as quickly as safely. At Bitfinance Forex, everything is investment fraud. Everything the investor sees on their screen is for deception. Nothing is traded at Bitfinance Forex. Not a penny has been invested. The money has gone straight into the pockets of the investment scammers. Can you tell me about the same kind of experience? How can investors get their money back from dubious providers? What help is available in case of investment fraud? What can investors who have been scammed by Bitfinance Forex do?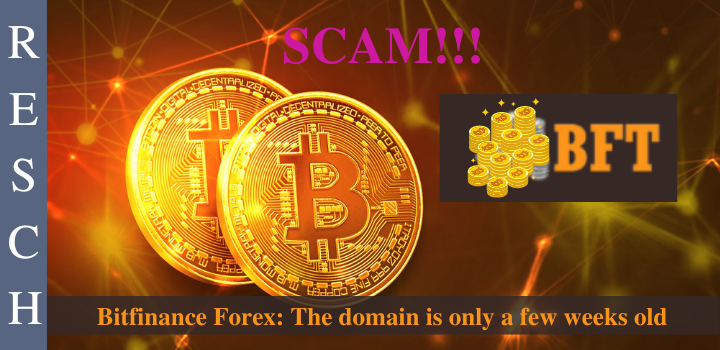 Bitfinance Forex: Unbelievable and dubious promises on the website.
What are the dumbfounded investors being served up on www.bitfinanceforex.com? "BitFinance Forex is a registered investment management company. We are managed by a team of trading experts who make profits by buying and selling currencies, stocks, options, and commodities in the forex market. We use a variety of trading techniques to achieve set goals for clients." This is just a small sample of suspect promises investors can find on Bitfinance Forex's website. None of these promises have been kept by Bitfinance Forex. The unacceptable business conduct makes for miserable experiences and frustrated investors!
BitFinance Forex: Domain entry is hidden!
Of course, the investment scammers don't want people to track them down easily. That is why the BitFinance Forex website does not have an imprint with the full details and the address of the website operators. The domain data of the bitfinanceforex.com website also does not contain any indication of who once registered the site, only that the registration was made on 10/21/2022 with NameCheap, Inc. and that the real domain owners are hiding behind an Icelandic anonymization service called Withheld for Privacy ehf based in Reykjavik.
BitFinance Forex: Who is behind it?
Investors will not be able to answer this question. The investment scammers disguise their identity perfectly - almost. This is normal because they regularly operate various websites where they offer their fraudulent business model. For example, the potential investment prospects were first lured to a site called BitFinance Trade, but then its domain abruptly changed from bitfinancetrade.co to bitfinanceforex.com. As far as the content is concerned, only a closer look revealed subtle differences, whereby the creators of this construct do not quite agree on themselves on whether the platform is now called BitFinance Forex or BitFinance Trade. At least, the current version of the website happily switches back and forth between the two names.
Bitfinance Forex: Who is the operator?
On the BitFinance Forex website, there are only sparse details about this. Besides the obligatory support email address support@bitfinanceforex.com, however, no contact phone number is then listed, so in this way zero conclusions about the operators of this platform are possible. But what about the address "Unit 12, Elizabeth Trading Estate Juno Otley Road, London, SE14 5RW street, England", which is presented on the website, does it lead us to the people behind BitFinance Forex? We have to answer this question in the negative, because the address, as it is declared on the website, does not exist. If you take a closer look, you will quickly realize that the information regarding the address does not make sense either way.
Bitfinance Forex: International Searches
A worldwide search for BitFinance Forex in the relevant registers leads to no results. BitFinance Forex, like BitFinance Trade, is a fantasy product. The information on the website regarding any CySEC and ASIC supervisory bodies is fictitious. The BitFinance Forex makers are coming up with regulations by state authorities here to simply pretend their legality to the unsuspecting investors this way. However, we are not fazed by the many diversionary tactics undertaken on the part of the scammers to lure us on a false trail. With our research tools, our Investigations team has managed to pick up the trail of the investment scammers.
Bitfinance Forex: Investment fraud scheme
The investment scam usually plays out according to the consistent scheme: investors initially put in a small sum - usually 250 euros - are impressed by how quickly this amount multiplies, so much so that they are ready to "invest" higher and higher sums. The worries start as soon as investors want to have their money paid out, because now flimsy taxes, commissions, fees, or anything else have to be paid first. Many investors unfortunately find out far too sluggishly that they have fallen for an investment scam and never intended to have the money paid out again.
Bitfinance Forex: What help is there for investment fraud?
Many aggrieved investors wonder how to proceed in case of investment fraud. Filing a criminal complaint hardly makes sense, as it mainly serves the purpose of prosecution, but not the recovery of the money. What kind of help can one hope for in the case of investment fraud and how do affect investors get their money back? A lawyer specializing in investment fraud must know how to trace the money, because as they used to say, money is never gone, but unfortunately somewhere else. Now it can be added: It is challenging, but with the right tools it is possible to track money digitally regularly - even if it was transferred with Bitcoin via a Crypto Exchanger.
RESCH Rechtsanwälte GmbH - experience in investor protection since 1986.
If you have been a victim of Bitfinance Forex and want to know if and how you can get your money back, call +49 30 885 9770 or fill out the questionnaire. You will receive a free assessment of your case.