BitcoinTrade - Experiences: It is undoubtedly investment fraud
01.08.2022
BitcoinTrade implies that investors are provided fantastic opportunities to win money by trading as quickly as safely. At BitcoinTrade, everything is investment fraud. Not a penny has been invested. Everything the investor sees on their screen is fake. Nothing is traded at BitcoinTrade. The money has landed right in the pockets of the investment scammers. Have you had similar experiences? How can investors get their money back from dubious providers? What can investors who have been scammed by BitcoinTrade do? What help is available for investment scams?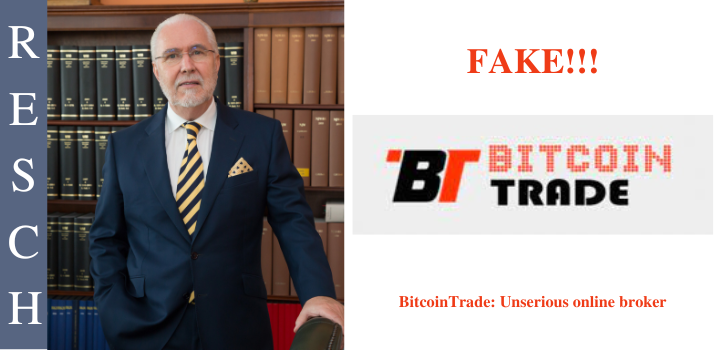 BitcoinTrade: Disreputable and dubious information on the website
What do unsuspecting investors have to receive on www.bitcointradings.global? "Our investors have full control over their transactions. We do not enforce any unwanted or unnoticed fees, as can be the case with other payment methods. Our payment method can be made without any personal information associated with the transaction. This provides strong protection against identity theft." This is just a small sample of the suspect promises that interested parties can find on BitcoinTrade's website. None of these full-bodied promises from BitcoinTrade have been delivered. But everything looks very convincing. The unsuspecting investor is hardly able to realize that nothing is real. He has been presented with a play. Not a cent of his money is invested. Everything ends up right in the pockets of the investment scammers. There is no trading. It's all appearance, no reality. And therefore the investor does not get his money paid out. Unfortunately, the suspicious business behavior rather provides for disappointed investors and miserable experiences! The exciting question is, who is behind this investment scam?
BitcoinTrade: Domain entry is hidden!
Of course, the investment scammers do not want people to track them down easily. That is why the website does not have an imprint with the full details and the address of the website operators. Also, the domain data of the bitcoin trading.global website does not contain any hint as to who once registered the site, but only that the registration was done on 02/06/2020 with NameCheap, Inc. and, as expected, the real domain owners are hiding behind the Icelandic anonymization service Withheld for Privacy ehf based in Reykjavik.
BitcoinTrade: Who is behind it?
Investors will not be able to answer this question. The investment scammers disguise their identity perfectly - almost. This is normal because they regularly operate various websites where they offer their fraudulent business model. And who is the operator? On the BitcoinTrade website, there are only sparse details about this. In addition to the obligatory support email address, the phone number (785) 670-5555 is still listed without a country code, so this way no conclusions about the platform's operators are possible. The address 307 Rexholding Av., Glasgow also proves to be a dead end for the platform operators, because there is no such address in Glasgow, or indeed in the whole of Scotland. And as for the deceptive, supposedly good reviews of satisfied customers on the website, it must be said at this point that they are fake. The pretend Rosa Donovon, who so nicely thanks BitcoinTrade for reliability, is called Cynthia Pettit, is a US citizen and a vice president of the KeyBank company. For sure, she does not know that her photo was stolen and her face is currently being used for fraudulent activities. Our internal investigation was also able to establish a connection to another fraudulent platform called BitcoinGlobal, which was also registered in February 2020 via an anonymization service, so we can finally take action here as well and expand our investigation in this direction.
BitcoinTrade: Further search
The global search for the BitcoinTrade in the relevant registers leads to no result. BitcoinTrade is a fantasy product. But with our research tools, our Investigations team has succeeded in tracking down the investment scammers.
BitcoinTrade: Warnings from regulators
Unsurprisingly, BitcoinTrade has already been targeted by the UK's Financial Conduct Authority (FCA) for its business practices and questionable demeanor. As such, the latter issued the following warning back on 12/05/2021: "BitcoinTrade - We believe this firm may be offering financial services or products in the UK without our permission. Find out why you should be cautious when doing business with this unauthorized company and how you can protect yourself. Almost all firms and individuals offering, promoting, or selling financial services or products in the UK must be authorized or registered by us.
This firm is not licensed by us and is targeting people in the UK. You cannot contact the Financial Ombudsman Service and you are not protected by the Financial Services Compensation Scheme (FSCS), so it is unlikely that you will get your money back if something goes wrong.
Unauthorized Company - BitcoinTrade.
Phone: 02 045307136 02039895504 02039893267
Email: support@b-trade.io,
support@trading-invest-capital.com
Website: www.bitcoin-trade.io, www.bitcoin-trade.capital
Note that some companies may provide different information over time or change their contact information and provide new email addresses, phone numbers or addresses." It remains merely a matter of time before other regulatory institutions will also take notice of BitcoinTrade and warn about their criminal activities.

BitcoinTrade: Scheme of the investment fraud
The investment fraud plays out according to the notorious scheme: investors get in with a small sum - usually 250 euros - quickly experience how this amount multiplies so that they are ready to "invest" higher and higher sums. The quarrels open up as soon as investors want to have their money paid out, because then, as an excuse, taxes, commissions, fees or whatever have to be paid first. Most investors grasp far too belatedly that they have fallen for investment scammers who never intended to pay out the money again.
BitcoinTrade: What help is there for investment fraud?
How to proceed in the case of investment fraud, many angry investors ask themselves, since a criminal complaint hardly makes sense, because criminal charges are primarily used for a criminal prosecution, but not for the recovery of money. What kind of help can one hope for in the case of investment fraud and how do affect investors get their money back? The lawyer who specialized in investment fraud knows how to trace the money, because as it was said in the past, money is not gone, but only somewhere else. The present can be added: It is complicated, but with the proper tools it is possible to track money digitally regularly - even if it was deposited with Bitcoin through a crypto exchanger.
RESCH Attorneys at Law - Experience in investor protection since 1986
If you have become a victim of BitcoinTrade and want to know if and how you can get your money back, call +49 30 885 9770 or fill out the questionnaire. You will receive a free assessment of your case.