Bitcoin Convert - Experiences: Broker does not pay out
09.06.2022
Bitcoin Convert pretends to offer investors excellent opportunities to make money online trading as fast as it is safe. At Bitcoin Convert, everything is investment fraud. Nothing is traded at Bitcoin Convert. The money has landed right in the pockets of the investment scammers. Not a penny has been invested. Everything the investor sees on his screen is fake. Can you report similar experiences? What help is there for investment fraud? How does the investor get his money back from dubious providers? What can investors do who have been scammed by Bitcoin Convert?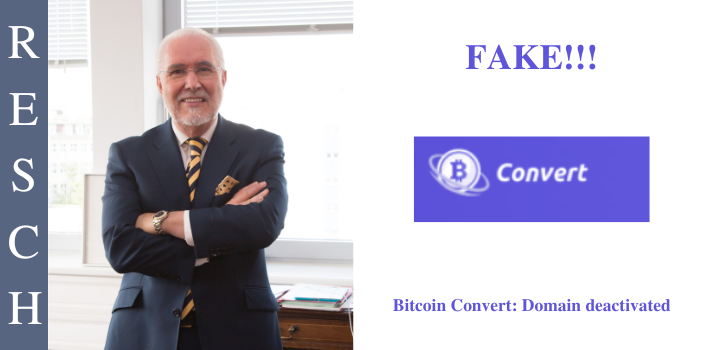 Bitcoin Convert: Transparent and dubious promises on bitcoin-convert.com!
What are the astonished visitors on www.bitcoin-convert.com being presented with? "Enhance your trading experience by using the latest strategies and performing all 3 analyses on a platform that can handle all kinds of complexities.... Direct contact with your account manager whenever you need help.... Receive the latest trading trends directly to your email or mobile... Grow your account and benefit from personalized trading support." That's just a small excerpt of the over-the-top promises that interested parties can find on Bitcoin Convert's website. None of these full-bodied assurances from Bitcoin Convert have been delivered. Unfortunately, the suspicious business behavior rather makes for disappointed investors and bad experiences!
Bitcoin Convert: who is behind it?
Answering this question will probably be difficult for most investors, as the Bitcoin Convert makers do everything they can to disguise the true circumstances. Anyway, this is nothing unusual, as the perpetrators usually operate several of these websites with the same fraudulent business model. Such are produced in stock, uploaded to the Internet without ceasing, and taken offline just as swiftly, moreover, the top-level domain is changed again and again to confuse financial regulators and law enforcement agencies. But who runs Bitcoin Convert? There is little actionable information about this on the bitcoin-convert.com website. The customer service of Bitcoin Convert claims that there is an operating company with the business address 400 Rue Bouvier, QC G2K 0K9, Quebec City, Canada, but the creators of Bitcoin Convert cannot be found under this address, which is a simple lie. The domains bitcoin-convert.com and btc-convert.com were registered on 06.05.2021 with NameCheap, Inc. In addition, the obligatory support email address support@bitcoin-convert.com and the Canadian telephone number +1 418-476-7038 can be found there.
Bitcoin Convert: Scheme of the investment fraud
The investment scam usually follows the well-known scheme: investors get in with a small sum - usually 250 euros - quickly experience how this amount multiplies so that they are ready to "invest" higher and higher sums. The trouble starts when an investor wants to have his money paid out, because then taxes, commissions, fees, or anything else have to be paid all at once. Unfortunately, most investors are too slow to realize that they have fallen for investment scams that never intended to pay out the money again.
Bitcoin Convert: What help is available in case of investment fraud?
What to do in case of investment fraud, many affected investors ask themselves, because criminal charges hardly make sense, since criminal charges are mainly for prosecution, but not for recovering the money. What kind of help can one hope for in case of investment fraud and how do affect investors get their money back? A lawyer specializing in investment fraud must know how to follow the trail of money because as it was said in the past, money is not gone, but only somewhere else. Today one can add: It is complicated, but with the right tools it is possible to track money systematically digitally - even if it was deposited with Bitcoin via a crypto exchanger.
RESCH Attorneys at Law - Experience in investor protection since 1986
If you have been a victim of Bitcoin Convert and want to know if and how you can get your money back, call +49 30 885 9770 or fill out the questionnaire. You will receive a free assessment of your case.