Binance Investings - Alleged traditional company only a few months old
23.05.2023
Our in-house research department has already gathered some information about Binance Investings. Binance Investings creates the impression that perfect conditions are provided to investors to make fast and secure money by trading currencies, indices, commodities, gold, silver, oil, gas, and cryptocurrencies. At Binance Investings, everything is investment fraud. Not a penny has been invested. Everything the investor sees on their screen is designed to deceive. Nothing is being traded on binanceinvestings.com. The money has ended up in the pockets of the investment scammers. Have you had similar experiences? What help is available for investment fraud? What can investors do if they have been scammed by Binance Investings? How can investors recover their money from unscrupulous providers?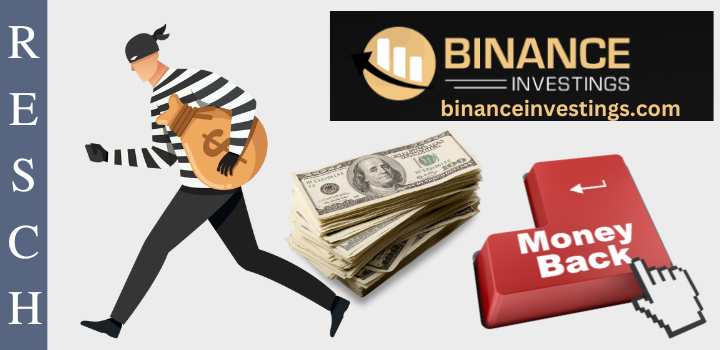 Binance Investings: Unscrupulous Promises on binanceinvestings.com
What do astonished investors read on the website of Binance Investings? You have probably noticed that the website binanceinvestings.com creates a very professional impression. Direct address, supposedly interesting offers, and the mention of support from the staff (brokers), which is supposed to lead to convincing returns and profits. All of this appears very convincing. As an unsuspecting investor, you are unable to recognize that you are only being presented with a play and not a single penny of your money is being invested. All the money goes straight into the pockets of the perpetrators who do not trade with the investors' money. Everything is just staging and illusion.
Binance Investings: Who is behind it?
Answering this question will generally pose a challenge for most investors, as the makers of Binance Investings do everything to conceal the true circumstances. Binanceinvestings.com does not contain any revealing imprint information intended to prevent the perpetrators from being easily identified. The domain data of the website binanceinvestings.com also does not provide any indication of who registered it, only that it was registered on January 19, 2023, with PDR Ltd., and the true domain owners are hiding behind an anonymization service. We know that the perpetrators operate various websites on which they offer their fraudulent business model. For example, we have discovered significant overlaps with other fraudulent platforms such as swissfxm.com, capitalfxm.com, and stanfordfx.com.
But who is the operator of Binance Investings?
In addition to the obligatory support email address support@binanceinvestings.com, potential investors are also shown the British phone number +44 2037699204. The addresses used are 125 Old Broad St, London EC2N1AR, and Dawson House, 5 Jewry Street, London, EC3N2EX. Which one is correct? The answer is simple: Neither, as both are fictitious addresses. Surely even the football icons featured on binanceinvestings.com have no idea that their faces are being used for criminal activities. World stars like Cristiano Ronaldo, the Argentine national football team, or the Bayern Munich club would certainly not enter into advertising deals with criminals. And we also doubt that Binance Investings is a sponsor of the world-famous football club Manchester United.
Binance Investings: International Investigations
The worldwide search for Binance Investings in the relevant registers leads to no results. Binance Investings is a product of imagination. Although the makers try to prove the opposite by claiming on their website that a company named Binary Capital Investment Management Ltd. operates it. Such a company does exist but operates in a completely different domain. Is this a case of identity theft? Many indications suggest so, as the scammers try to appear in a legal guise with all their might. The mention of the alleged supervisory authorities on binanceinvestings.com, such as the "Kuwait Chamber Of Commerce" or the "FDA United Arab Emirates," is just another attempt to present Binance Investings in a positive light. However, with our research tools, we have managed to trace the tracks to the investment scammers.
Binance Investings: Investment Fraud Scheme
The investment fraud follows the infamous scheme: Initially, investors deposit a small amount - usually 250 euros - and are impressed by how quickly this amount multiplies, leading them to invest even larger sums. The problems arise when an investor wants to withdraw their money because suddenly taxes, commissions, fees, or something else allegedly need to be paid. Most investors only realize too late that they have fallen victim to investment scammers who never intended to pay out the money.
Binance Investings: What Help is Available for Investment Fraud?
Many angry investors wonder what to do in the case of investment fraud because filing a criminal complaint makes little sense since criminal complaints primarily serve law enforcement purposes, not the recovery of money. What help is available for investment fraud, and how can affected investors recover their money? An attorney specializing in investment fraud must know how to trace the money because, as it used to be said, money is not lost, it's just somewhere else. Today, it can be added that it is difficult, but with the right tools, it is possible to regularly trace money digitally, even if it was deposited with Bitcoin via a crypto exchanger.
RESCH Rechtsanwälte - Experience in Investor Protection since 1986
If you have become a victim of Binance Investings and want to know if and how you can recover your money, call us at +49 30 885 9770 or fill out the questionnaire. You will receive a free assessment of your case.