BestBit - Reviews: Investment scam with romance scam
26.10.2022
BestBit/ToBestBit creates the impression that investors are offered fantastic opportunities to win fast and safe money while trading online at the same time. The feeling is reinforced by Love Scam. It is a trap, because everything at BestBit/ToBestBit is investment fraud. Not a penny has been invested. Nothing is traded at BestBit/ToBestBit. Everything the investor sees on his screen is fake. The money has landed straight into the pockets of the investment scammers. Can you report similar experiences? How do investors get their money back from dubious providers? What can investors do who have been scammed by BestBit/ToBestBit? What help is available in the event of investment fraud?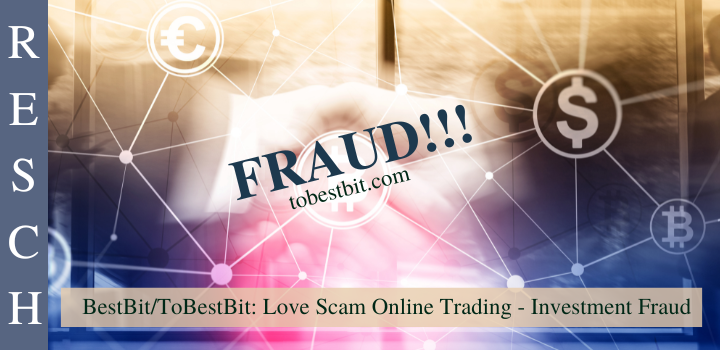 BestBit/ToBestBit: Romance Scam
Love Scam is a method of internet fraud to get people to make payments. In the field of online trading, the following happens. A man meets an attractive female partner on a dating portal. She shows interest and at the same time pretends to have a luxurious lifestyle that the man cannot offer her. She could enable him to earn a lot of money together. She recommends him a platform like BestBit/ToBestBit, on which she has made a fortune. The trading platform is, of course, a fraudulent one.
BestBit/ToBestBit: Who is behind it?
Since the BestBit/ToBestBit makers do everything they can to conceal the true circumstances, many investors might find it difficult to answer this question. In principle, this is not unusual, as the scammers often operate several of these websites with the same fraudulent business model. These are stockpiled, quickly uploaded to the internet and just as quickly taken offline again; moreover, the top-level domain is often changed in order to deceive the financial supervisory and law enforcement authorities.

BestBit/ToBestBit: Who is the operator?
On the BestBit/ToBestBit website there is no usable information on this. Certainly, the company YIYISHUN TECHNOLOGY CO LTD is listed and there is also a company of this name in the British company register, but with the business purpose of textile trade, at the address Unit G1, Capital House 61 Amhurst Road, London, United Kingdom, E8 1LL, but the creators of BestBit/ToBestBit are certainly not to be found there. The company was registered on 30 April 2021 by the Chinese citizen Sufen Han, but the company was dissolved again on 4 October 2022. The ongoing investigations will show whether there is a connection with the investment fraud. The domain tobestbit.com was registered on 31.08.2022 with Amazon Registrar, Inc. In addition, there is also the usual support email address as well as the telephone number 0123. / There is neither a support email address nor a telephone number.

BestBit/ToBestBit: Scheme of the investment fraud
Investment fraud notoriously follows the same pattern: investors initially put in a small sum - usually 250 euros - and quickly see this amount increase, so that they are prepared to "invest" higher and higher sums. The trouble starts when an investor wants to have his money paid out, because now taxes, commissions, fees or whatever else supposedly have to be paid. Unfortunately, many investors only realise belatedly that they have fallen for an investment scam and that there was never any intention of paying out the money again.

BestBit/ToBestBit: What help is there for investment fraud?
Many aggrieved investors wonder how to proceed in the case of investment fraud, since criminal charges make little sense because criminal charges are primarily for prosecution and not for recovering the money. What kind of help is available in investment fraud cases and how do investors get their money back? The lawyer specialising in investment fraud must know how to trace the money, because as they used to say, money is not gone, it's somewhere else. Now you can add to that: It is challenging, but with the right tools it is possible to track money digitally on a regular basis - even if it was deposited with Bitcoin via a Crypto Exchanger.

RESCH Attorneys at Law - Experience in investor protection since 1986
If you have been a victim of BestBit/ToBestBit and want to know if and how you can get your money back, call +49 30 885 9770 or fill out the questionnaire. You will receive a free assessment of your case.