BeForex Capital, beforexcapital.com, beforexcapital.co - Dishonest!
20.09.2023
In the world of digital investments, it is not uncommon to find subjects who lure innocent investors into their clutches with sophisticated deceptions and seductive promises. In this critical review, we focus on the suspicious practices of one such player: BeForex Capital, a company whose digital presence seems to be more apparent than reality. Below we present the data collected so far by our specialised research department, which paints a disturbing picture and calls into question the guilelessness of potential investors. Have you already experienced first-hand the perfidy of beforexcapital.com or beforexcapital.co? Are your experiences more bad than good? What can you do in such a tricky situation to save your money?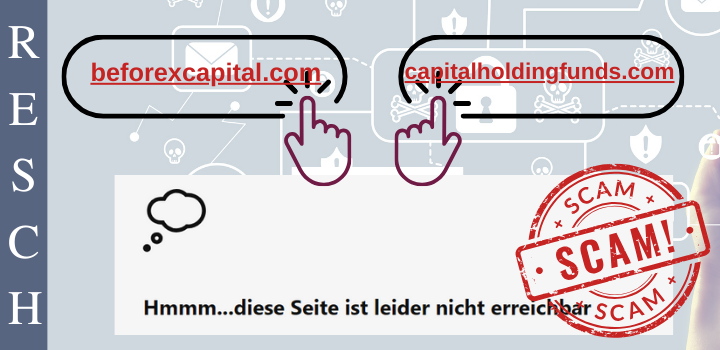 Exposing the fraud: A critical analysis
Our in-depth investigation of the BeForex Capital platform - alternatively written BeForexCapital - has revealed a number of disturbing findings. At first glance, the company's websites, namely beforexcapital.com and beforexcapital.co, appear highly professional, with a direct approach and enticing offers, complemented by promises of attractive returns and support from so-called brokers. But do not be fooled. All of this is nothing more than a well-orchestrated illusion, a game designed to take money out of your pocket without actually investing your money. It appears that investors' funds go straight into the pockets of the scammers, without any real trading activity.

Dark secrets: Website details and fake addresses
BeForex Capital websites do not reveal any important information in their imprint, a tactic that helps to hide the real creators. A detailed analysis of the domain data shows, for example, that the registration of beforexcapital.com took place on 21/02/2020 via TurnCommerce, Inc. with the real owners hiding behind a widely used anonymization service. In addition, the presentation of various contact options, such as the email addresses contact@beforexcapital.com and contact@beforexcapital.co, as well as the UK telephone numbers +44 7786134166 and +44 01213503790, makes the identification of the real operators much more difficult - for the time being. Even the stated company addresses in London and Kingstown (4 Carlton Gardens, London, SW1Y 5AA, England, and First Floor, First St Vincent Bank Ltd, Building James Street, Kingstown, St Vincent, and the Grenadines) turn out to be deceptive maneuvers on closer inspection, with no verifiable existence of the company at these locations.

On the trail: Investigations and regulatory warnings
Despite the lack of official registration of BeForex Capital in the relevant registers, our investigative team was able to track down the fraudsters using specialized research tools. It turns out that online charlatans leave crucial clues in each of their web interactions and interactions with their victims. These traces now provide a valuable basis for further analysis and evaluation. Regulators such as the UK's Financial Conduct Authority and the Central Bank of Ireland have already sounded the alarm, issuing warnings on 09.11.2020 and 05.02.2021 respectively, highlighting in particular that BeForex Capital appeared to be attempting to imitate the legal company The Capital Holdings Fund plc, an act which is in itself punishable by law. Do you want to do business with such actors? Probably not! Given the evidence now available, it is clear that BeForex Capital is not only involved in the misleading presentation of investment opportunities but also potentially criminal activities. Other regulatory authorities will certainly become aware of BeForex Capital's misdemeanors and will also issue appropriate warnings, for example, the German Federal Financial Supervisory Authority (Bundesanstalt für Finanzdienstleistungsaufsicht) or the Austrian Financial Market Authority (Finanzmarktaufsicht).

Conclusion: BeForex Capital was up to no good!
Overall, our investigation suggests that BeForex Capital has created a masterfully orchestrated facade to trap gullible investors. The evidence gathered points to a systematic and well-thought-out fraud strategy that seriously jeopardizes investors' finances and confidence. At this critical time, it is imperative to remain vigilant and thoroughly investigate potential investments to avoid falling victim to such unscrupulous actors. We will continue to do our duty to inform the public about such questionable ventures and ensure that justice is done.

If you've fallen for an online investment scam, how do you get your money back?
In times of economic uncertainty and fluctuating market dynamics, even the most cautious investors can fall prey to fraudsters. However, even if you do fall for a scam, it does not have to be a total loss. There are professional companies that are ready to help you and show you different ways to fight these schemes, even if the circumstances seem complicated.

Forensic technology: a serious ray of hope
In an era where digital transactions dominate, the use of advanced forensic technologies is essential to effectively detect fraudulent activity. We rely on renowned tools such as Chainalysis, a leading blockchain analysis software that allows us to trace even the most hidden financial movements. These tools are therefore an effective way of tracing lost investments on platforms such as BeForex Capital.

Together against fraud: you are not alone!
Above all, it is important to realize that you are not alone in this challenge. Our well-coordinated team of nearly forty IT specialists, lawyers, and tireless investigators is ready to actively assist you. We offer a free, no-obligation, in-depth analysis of your case. If you suspect you have been a victim of investment fraud, do not hesitate to take the first step and contact us.

Contact and support: We are here to help!
We are here to help you in these difficult times. You can reach us around the clock at +49 (0)30 8859770 or use our online contact form to get in touch with us. We guarantee a detailed, no-obligation assessment of your case to help you through this stressful time.