Analysis of avax-capitalgroup.com
18.07.2023
Finding profitable investment opportunities can be difficult at times, and many investors are looking for reputable platforms to invest their money safely and profitably. In this article, we will take a closer look at Avax Capital, a platform that promises promising returns and profits. Unfortunately, there are numerous allegations that Avax Capital is deceiving its investors and embezzling money. Through an analysis of the website and further research, we come to surprising conclusions that prove Avax Capital may be a fraudulent company. Read more about the results of our investigation and gain insight into the background.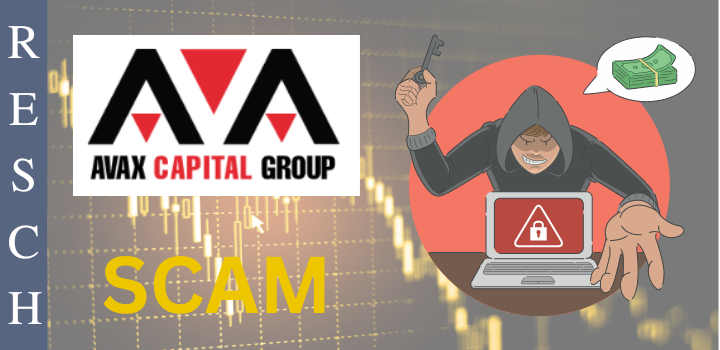 Avax Capital Group: Investigation of the name
Avax.Network is a smart contract platform from software provider Avalanche that is infinitely scalable and performs regular transactions, such as for high-speed financial applications. AVAX is the platform's cryptocurrency. This has nothing to do with Avax Capital Group. The latter only used the name.

Analysis of avax-capitalgroup.com
During our analysis of the avax-capitalgroup.com website we noticed that the mandatory imprint is missing, which is a serious warning sign. Moreover, the operator of the avax-capitalgroup.com website is Privacy Protect, LLC. The domain was registered on 03.03.2023 with PDR Ltd. This lack of transparency casts doubt on the seriousness of Avax Capital.

Avax Capital: Contact information for potential investors
Avax Capital provides an email address (info@avax-capitalgroup.com) and a UK phone number (+44 2034688687). The address given is 22 Bishopsgate, EC2N4BQ London. However, we have found that this address is already known to us from other scams and that Avax Capital Group itself cannot be found at this address. These inconsistencies strengthen the suspicion of unseriousness.

Many questions for Avax Capital, but no answers
Given the obvious shortcomings and allegations against Avax Capital, investors have legitimate questions. Who is the CEO of this company? How many people does Avax Capital employ? Where can potential investors view the company's financials? Yet Avax Capital is silent on these questions, which is highly suspicious. Investors should therefore be warned and not invest their money lightly on this platform.

Research Results on Green Technologies Group Ltd:
Interestingly, Avax Capital offers shares of Green Technologies Group Ltd. However, during our research on this company, we found suspicious inconsistencies. The official registration number (13560328) shows that the company is registered in the United Kingdom and is headed by Sureshkumar Kantilal Nayi, an Indian living in the United Arab Emirates.

Other discrepancies leave Avax Capital in need of an explanation
According to the commercial register, the company is engaged in the production of plastics and primary molds, as well as technical planning for industrial processes and production. This contradicts the information on the greentechnologiesgroupltd.com website, which claims that the company specializes in battery manufacturing. In addition, Green Technologies Group Ltd. is currently listed as dormant, with no activity. The confusion as to why the law of Vancouver, Canada is being used when the company is supposedly based in London, England, adds to the suspicion that something is amiss.

Conclusion: Identity Theft
Based on the results of our investigation, we strongly suspect that Green Technologies Group Ltd, which is listed in the Commercial Register, has nothing to do with the greentechnologiesgroupltd.com website. All indications are that the scammers have stolen the name and registration details of a legitimate plastics manufacturer in order to maintain the appearance of legality. This is a clear case of identity theft and shows the lack of seriousness of Avax Capital.

Tracking down the perpetrators at Avax Capital
Thanks to our research tools and the dedication of our investigation team, we were able to track down the perpetrators. The perpetrators often leave traces in their web appearances and in contact with their victims, which we trace back to them. We have already evaluated the first clues and assigned the handwriting of the perpetrators to a group of perpetrators known to us. We have been investigating this group for some time. It remains to be seen when the regulatory institutions will become aware of the machinations of Avax Capital and the most likely fake Green Technologies Group Ltd (greentechnologiesgroupltd.com).

Experience with Avax Capital Group
Not all investors fall for the scam. For example, under the nice keyword share spam, one reported: "The Avax Capital Group, which supposedly exists for several years (but whose domain was only registered in March 2023), would like to introduce me to shares in Green Technologies Ltd. Avax Capital Group is a consultant, they do not sell shares. One would advise the customers and if this makes profits, starting from a certain profit sum then a calculation would send... Avax Capital Group is located in Luxembourg, England and the USA".

Consequences for investors
Overall, investors need to be extremely cautious when it comes to Avax Capital and its offerings. The lack of transparency, identity theft and suspicious business practices are clear warning signs. The only way to avoid scams is to do your research and rely on reputable platforms. Investors should not be blinded by tempting promises and should always perform their own due diligence.

RESCH Rechtsanwälte GmbH - Experience in investor protection since 1986
If you have been a victim of Avax Capital (avax-capitalgroup.com) and want to know if and how you can get your money back, call +49 30 885 9770 or fill out the questionnaire. You will receive a free assessment of your case.