Two identical fraud platforms preying on investors: AuroXtrade and DgtlFuture!
29.08.2023
In today's digitalized world, investment platforms are numerous and widespread. While many work honestly and transparently, there are unfortunately also black sheep who want to cheat unsuspecting investors out of their money with fraudulent methods. The online trading offered on auroxtrade.net and dgtlfuture.com is merely faked, there is no trading at all, because of what the unsuspecting investors do not suspect: Here investment fraudsters are at work, maneuvering the money of the investors skillfully into their own pockets. Our in-house research department has dealt intensively with AuroXtrade and DgtlFuture. What it found out is alarming and a call for caution. What are your experiences with these platforms? Do you also have the feeling that they are not as reputable as they seem at first glance? Then you are not alone! But the good news is: that the capital you have invested there does not necessarily have to be written off, there are steps you can take to get your rights after all. Read on, we will tell you what to do following the respective platform analyses!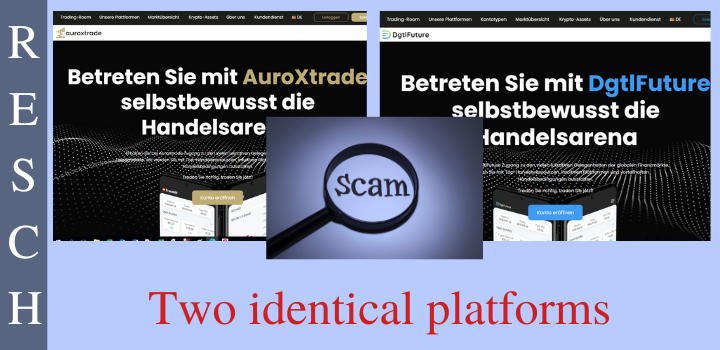 Appearance and reality, are two different things!
Our research on AuroXtrade and DgtlFuture revealed that despite the professional web presence of both sites (which are like two peas in a pod), numerous red flags question the seriousness of these platforms. In addition to the lack of a masthead, which prevents an easy and quick identification of the operators of AuroXtrade and DgtlFuture, it is mainly the anonymized domain data of both websites that should make one prick up one's ears. The domain auroxtrade.net was registered on 05/09/2023 with Hostinger, UAB, and dgtlfuture.com on 06/14/2023 with NameCheap, Inc. In both cases, common anonymization services were used to hide the real faces behind the fraud platforms. A scam that is quite common within the cybercrime cases we have.

AuroXtrade and DgtlFuture are not alone: grandpaBitcoin, TradeCentrix, and co!
Our research revealed the same patterns we found at AuroXtrade and DgtlFuture on other sites such as OpaBitcoin (opabitcoin.com) or TradeCentrix (tradecentrix.net), all of which point to the same fraudulent scheme. In any case, there are connections here that cannot be dismissed. Our internal investigators have had the perpetrators on their radar for some time now, so the picture is becoming clearer with each platform that the perpetrators create and then use to trap victims.

The confusion of contact information
The contact information offered - such as the two phone numbers +44 89037465 (UK) and +45 800123456 (DK), or the generic address "London, UK", which is incomplete - does not allow any conclusions to be drawn about the real operators or their true whereabouts. The meaningless e-mail addresses support@auroxtrade.com, support@dgtlfuture.com, and support@loream.io (the latter appears on both platforms and seems to be a fantasy e-mail address), a multitude of open questions and the lack of essential information on the websites are further warning signs for potential investors. For example, there is no mention of who the managing director is supposed to be, and the general terms and conditions are also missing! A clear indication that something is amiss.

Conclusion: Look for the distance, put your savings somewhere else!
Our research clearly shows that both AuroXtrade and DgtlFuture are not what they claim to be. The professional websites mislead gullible investors and our targeted research uncovers numerous inconsistencies and red flags. It is of utmost importance that investors remain vigilant and do not ignore suspicious signs. It is only a matter of time before official authorities such as Germany's BaFin or Switzerland's FINMA step in and hold the platforms, AuroXtrade and DgtlFuture, accountable for their criminal activities. At least the other two platforms mentioned above (we remember: TradeCentrix and OpaBitcoin) have already appeared on the radar of the authorities. For example, the Spanish CNMV warned against TradeCentrix on July 3, 2023, and shortly after, on August 11, 2023, the Austrian FMA warned against OpaBitcoin.

And if you have already transferred to the perpetrators: Is all hope lost?
In a world that is diving deeper and deeper into the depths of digitalization, the complexity and scope of digital transactions are also constantly increasing. Within this framework, some companies promise to bring clarity and understanding to these often convoluted paths. In a landscape where not everything is as transparent as it first appears, specialized skills and tools are needed to solve the puzzle and deliver justice. Our firm has such tools at its disposal.

Cryptographic forensics: tracking digital currencies
Chainalysis, a leading authority in blockchain analysis, equips us with the most advanced tools to illuminate even the darkest corners of crypto transactions. Especially for those affected by AuroXtrade, DgtlFuture, and all other fraud platforms of this kind, this opens up the possibility of deciphering and tracing this opaque transaction path. This analysis allows us not only to dive deep into the tangled web of digital transactions but also to discover the often unintentional secrets and clues left behind by the originators.

Beyond the Binary: The Fight for Justice
Digital sleuthing is not just bits and bytes. It is an ongoing effort to bring clarity to a world that is often perceived as limitless and wild. A team of nearly forty IT experts, experienced lawyers and highly motivated investigators work with modern technology to help victims find justice. We specialize in investment fraud, we know what to do!

In difficult times: Your safe place
If you feel that you have been robbed by AuroXtrade, DgtlFuture, OpaBitcoin, or TradeCentrix, we are ready to provide you with reliable support. Please contact us at +49 30 8859770 or fill out our contact form. We promise a comprehensive and non-binding evaluation of your case.