ATXmarket - Address and license details are false
12.12.2022
ATXmarket / www.atxmarket.com creates the impression that investors are offered optimal conditions to win both fast and safe money with online trading. Everything at ATXmarket is investment fraud. Everything the investor sees on his screen is deception. The money has gone straight into the pockets of the investment scammers. Not a cent has been invested. Nothing is traded on atxmarket.com. Have you had similar experiences? What can investors who have been defrauded by ATXmarket? What help is available in case of investment fraud? How can investors get their money back from dubious providers?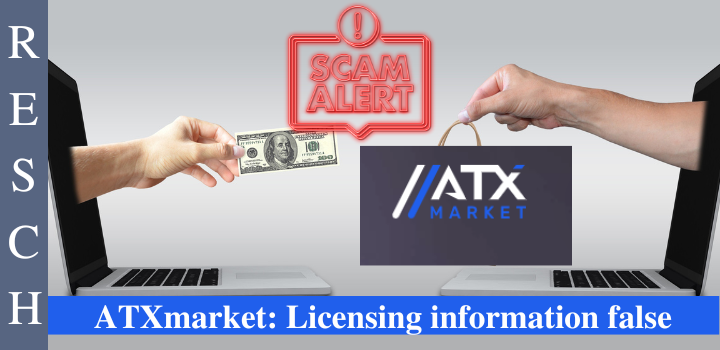 ATXmarket: Information is untrustworthy and dubious
What must the astonished visitors read on www.atxmarket.com? "Our brokerage MARKET BY ATXmarket offers the fastest trading with modern technology. No delays in executing orders and the most accurate quotes. Our marketplace and customer service are available 24/7. We are constantly adding new financial instruments so you can trade and earn the way you want." This is just a small quote of the suspect assurances that prospective customers can find on ATXmarket's website. None of these given promises by ATXmarket have been fulfilled. Unfortunately, the dubious business conduct rather provides unhappy investors and bad experiences!
ATXmarket: Hide-and-seek game with the domain entry!
If you look at the corresponding domain data of the website www.atxmarket.com, you will not find any reference to the operators and you will find that the domain atxmarket.com was first registered on 30.06.2009 with GoDaddy.com, LLC and that the real domain owners are hiding behind the internet service provider Domains By Proxy, LLC. Although the Internet domain was first registered in 2009, it was not brought to its current use until 2022. It was taken over by the investment scammers on 22/08/2022, after being parked at GoDaddy for a long time before that.
ATXmarket: Who is behind it?
Investors will not be able to answer this question. The investment fraudsters disguise their identity perfectly - almost. This is normal because they regularly operate various websites offering fraudulent business models. And who is the operator? On the ATXmarket website, there is only sparse information about this: "MARKET by ATXmarket is registered at 20 Fenchurch St, London UK. The company is operated by the requirements of the Cyprus Securities and Exchange Commission (license number: 39821), the International Financial Services Commission (IFSC) (10/711/TS/15), and the Financial Services Commission of the Republic of Mauritius (investment dealer license number: T37628590)."
ATXmarket: Misrepresentation to mislead
The address 20 Fenchurch Street is well known to connoisseurs of London, because there is the high-rise building, which is also called "The Walkie-Talkie" or "The Pint" ("The Beer Glass"), given its shape. What you won't find there, however, is the company ATXmarket. The reference to the financial regulators in Cyprus, Belize, or even Mauritius is equally abstruse. There are no licenses or similar available here. The scammers have forgotten that The Financial Conduct Authority (FCA) would be responsible for their registration and licensing at their alleged headquarters in London anyway. Thus obviously only unsuspecting investors are to be deceived by these data. The worldwide search for ATXmarket in the relevant registers leads to no results. ATXmarket is a fantasy product for the deception of investors.
ATXmarket: Many platforms, one scam!
This is not unusual, as the perpetrators often operate various of these websites with the supposedly same business model and quickly bring them online, but also shut them down again just as quickly. In many cases, the top-level domain is frequently changed in the process to deceive the financial supervisory and law enforcement authorities. However, one often finds the same actors, but with a new name, different company name, and different "financial products". The scam, however, remains the same. But that is not all, we are already familiar with this scam from various cases. The same group of perpetrators always registers new websites and initiates fraudulent share transactions according to the same pattern. However, it concerns thereby pure air business! But with our research tools, our investigation team succeeded in picking up the trail of investment fraudsters. The crucial thing here is to follow the money trail!
ATXmarket: Scheme of investment fraud
Investment fraud usually follows the same pattern: investors initially put in a small amount of money - usually 250 euros - are impressed by how quickly this amount increases and are therefore willing to "invest" higher and higher sums. The quarrels arise when investors want to have their money paid out, because then taxes, commissions, fees, or whatever else must be paid first. Unfortunately much too slowly, many investors realize that they have fallen for investment scammers who never intended to pay out the money again.
ATXmarket: What help is there for investment fraud?
Many affected investors wonder how to proceed in the case of investment fraud since criminal charges make little sense because criminal charges are primarily for prosecution and not for recovering the money. What kind of help can be used in investment fraud cases and how do the defrauded investors get their money back? The lawyer specializing in investment fraud must know how to follow the traces of the money, because as it used to be said, money is never gone, but unfortunately somewhere else. Nowadays one can add: It is difficult, but with the right tools it is possible to track money digitally regularly - even if it was deposited with Bitcoin via a Crypto Exchanger.
RESCH Rechtsanwälte GmbH - Experience in investor protection since 1986
If you have been a victim of ATXmarket and want to know if and how you can get your money back, call +49 30 885 9770 or fill out the questionnaire. You will receive a free assessment of your case.