Ascent Wealth Creations - Experiences: Without a doubt, it's an investment fraud
30.08.2022
Ascent Wealth Creations gives the impression that investors are provided with ideal conditions to make quick and safe money with stocks and cryptocurrencies at the same time when trading online. However, at Ascent Wealth Creations, everything is an investment scam. The money ends up right in the pockets of investment scammers. Nothing is traded at Ascent Wealth Creations. Not a penny is invested. Everything the investor sees on their screen is fake. Have you had the same experience? What can investors who have been scammed by Ascent Wealth Creations do? What help is available for investment scams? How can investors get their money back from rogue providers?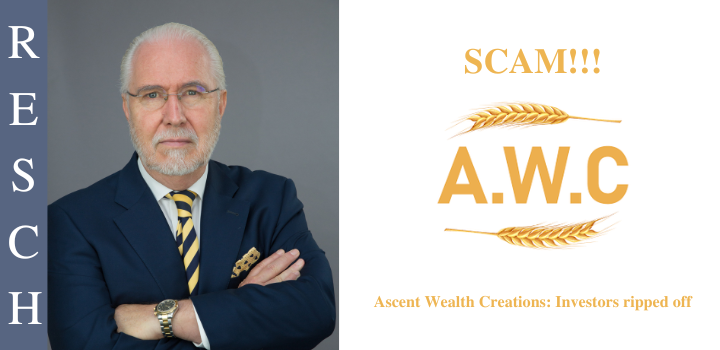 Ascent Wealth Creations: False and dubious promises on the website
What are the dumbfounded investors led to believe on ascentwc.com? It says, "Ascent Wealth Creations is a crypto asset management company. Investing in crypto assets requires dynamic tools to execute specific processes within a clearly defined investment framework." He continued, "Ascent Wealth Creations' investment principle aims to provide superior returns to its clients in a responsible manner. We can combine risk and generate high returns by leveraging our exclusive research in new asset types such as cryptocurrencies." This is just a small excerpt of the questionable claims investors can find on Ascent Wealth Creations' website. Not a single one of these lofty promises made by Ascent Wealth Creations was kept. But at first, everything seemed quite convincing. The unsuspecting investor is hardly able to realize that nothing is real. He was being played a game. Not a cent of his money is invested. Everything ends up directly in the pockets of the investment scammers. There is no trading. It's all pretense, no reality. And therefore the investor does not get his money paid out. Unpleasantly the dubious business practices provide rather disappointed investors and miserable experiences! Now the question arises, who is behind this investment fraud?
Ascent Wealth Creations: Hidden domain entry!
Of course, the investment scammers don't want people to track them down easily. That is why the website does not have an imprint with the full details and the address of the website owners. Also, the domain data of the website ascentwc.com do not contain any hint of who once registered the site, but only that the registration took place on 09.05.2022 at PublicDomainRegistry Ltd., and the real domain owners - as expected for us - are hiding behind an anonymization service.
Ascent Wealth Creations: Fraudulent platform
Investors will not be able to answer this question. The investment scammers disguise their identity perfectly - almost. This is normal because they regularly operate various websites where they offer their fraudulent business model. In the course of our research, we have already been able to establish a connection between Ascent Wealth Creations, which is discussed here, and a platform that has already been exposed as fraudulent for quite some time, namely Agartha Asset Management.
Ascent Wealth Creations: Who operates the platform?
There are only sparse details on this one. In addition to the obligatory support e-mail address, the telephone number +442045718933 with a British country code is listed, but this does not allow any conclusions to be drawn about the operators of the platform. As an address, an Icelandic address is presented to the potenziellen plant prospective customer: Austurbakki 2 in 101 Reykjavík. As proof that this address exists, a nice map section is presented to verify the address. A nice address, among other things the concert hall Harpa, which is known beyond the borders of Iceland, is located here, but unfortunately one looks in vain for a company called Ascent Wealth Creations.
Ascent Wealth Creations: International searches
A worldwide search for Ascent Wealth Creations in the relevant registers leads to no results. Ascent Wealth Creations is a fantasy product. But with our research tools, our Investigations Team has succeeded in tracking down investment fraudsters. It is only a matter of time before other regulatory institutions become aware of Ascent Wealth Creations and warn about their criminal activities.
Ascent Wealth Creations: Investment Fraud Scheme
The investment fraud plays out according to the same scheme: investors initially put in a small amount of money - usually, 250 euros - and are impressed by how quickly this amount multiplies, so much so that they are willing to "invest" higher and higher sums. The worries start when investors want their money paid out, because now flimsy taxes, commissions, fees or whatever have to be paid first. Most investors only belatedly realize that they have been duped by investment scammers who never intended to pay out the money again.

Ascent Wealth Creations: What help is available for investment fraud?
How to proceed in case of investment fraud, many defrauded investors ask themselves, since filing a criminal complaint hardly makes sense, because criminal complaints mainly serve the purpose of criminal prosecution, but not the recovery of the money. What help is available for investment fraud and how do affect investors get their money back? A lawyer specializing in investment fraud must know how to follow the money trail, because as it used to be said, money is never gone, but unfortunately somewhere else. Nowadays, you can add to that: It is exhausting, but with the proper tools it is possible to track money digitally regularly - even if it was deposited with Bitcoin through a Crypto Exchanger.
RESCH Attorneys at Law - Experience in investor protection since 1986
If you have been a victim of Ascent Wealth Creations and want to know if and how you can get your money back, call +49 30 885 9770 or fill out the questionnaire. You will receive a free assessment of your case.