AktienAG - Investment scammers abuse online trading
14.09.2022
AktienAG pretends that investors are offered optimal conditions to make both fast and safe money in online trading. Everything at AktienAG is investment fraud. Everything the investor sees on his screen is fake. Not a penny has been invested. The money has landed right in the pockets of investment scammers. Nothing is traded at AktienAG. Have you had similar experiences? What help is there for investment fraud? How do investors get their money back from dubious providers? What can investors who have been defrauded by AktienAG do?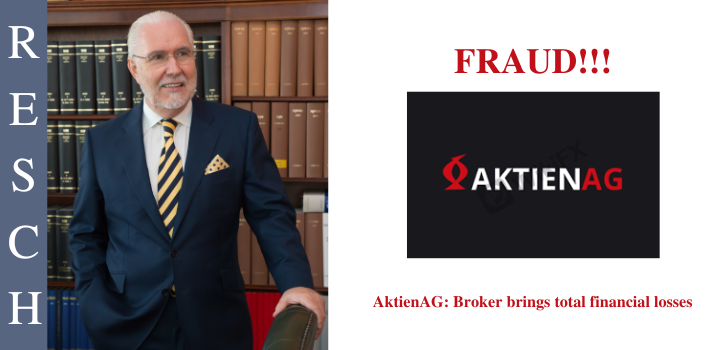 AktienAG: Promises on aktien.ag are questionable!
What are the astonished investors being presented with on the AktienAG website? "Aktienag is an international online broker with access to more than 130 trading instruments in 6 asset classes for retail and institutional investors. We operate globally and our focus is to provide a professional and reliable service to all our clients." That's just a small passage of text from the suspect promises that curious people can find on AktienAG's website. Not one of these given promises by AktienAG has been kept. Sadly, the disturbing business practices rather make for unhappy investors and miserable experiences!
AktienAG: Who is behind it?
Answering this question will be difficult for most investors because the AktienAG makers do everything they can to conceal the true circumstances. This is truly nothing unusual because the scammers usually operate several of these websites with the same fraudulent business model. Such websites are continuously created, quickly put online, and just as quickly taken offline again. In addition, the top-level domain is often changed to deceive financial supervisory authorities and law enforcement agencies.
AktienAG: Who is the operator?
There is hardly anything usable on the aktien.ag website in this regard. At least the company AKTIEN C LTD with the business address 1 Mabledon Pl, London WC1H 9AX, United Kingdom is indicated, under this the creators of AktienAG are not to be found, however, finally, it concerns only a fake company, because in the company register the company is not to be found. The domain was registered on 17.02.2022 with GoDaddy.com, LLC. In addition, there is the obligatory support email address and the phone numbers +41435089328 (Switzerland) and +447897045352 (United Kingdom).
AktienAG: Scheme of investment fraud
Investment fraud constantly follows the same scheme: investors initially put in a small sum - usually 250 euros - are impressed by how quickly this amount multiplies and are therefore prepared to "invest" ever larger sums. The annoyance begins, if an investor would like to have its money paid out because now pretended all at once taxes, commissions, fees or something else must be paid. Only with delay did many investors notice that they fell for investment fraudsters, who never had the intention to disburse the money again.
AktienAG: What help is there for investment fraud?
Many desperate investors ask themselves what to do in case of investment fraud since a criminal complaint hardly makes sense because criminal complaints serve primarily the prosecution and not the recovery of the money. What kind of help can one hope for in the case of investment fraud and how do affect investors get their money back? The lawyer specializing in investment fraud knows how to follow the money trail, because as it used to be said, money is never gone, only somewhere else. Now it can be added: It is challenging, but with the proper tools it is possible to track money digitally regularly - even if it was transferred with Bitcoin via a crypto exchanger.
RESCH Attorneys at Law - Experience in investor protection since 1986
If you have been a victim of AktienAG and want to know if and how you can get your money back, call +49 30 885 9770 or fill out the questionnaire. You will receive a free assessment of your case.