AIGL Investment Group - Reviews - Domain operators are scammers
25.11.2022
AIGL Investment Group implies that the investor is granted the best possible conditions to make safe money with an investment. At AIGL Investment Group everything is investment fraud. Everything the investor sees on his screen is fake. Not a penny has been invested. The money has landed right in the pockets of investment scammers. Nothing is traded at AIGL Investment Group. Have you had similar experiences? What help is available for investment fraud? What can investors who have been scammed by AIGL Investment Group do? How can investors get their money back from dubious providers?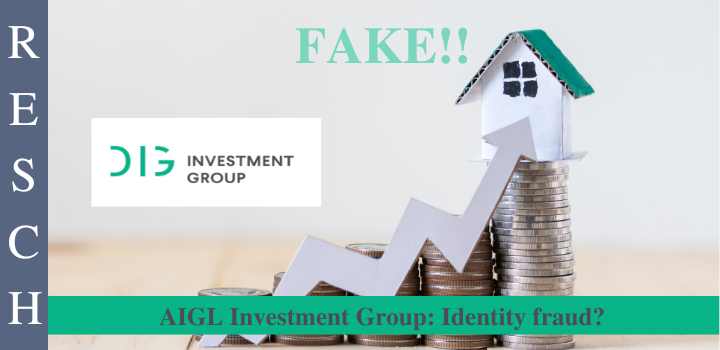 AIGL Investment Group: dubious promises on aiglinvestmentgroupltd.com!
What is presented to the perplexed prospective customers on aiglinvestmentgroupltd.com? "Everything we do at AIGL Investment Group is in the best interest of our clients. As fee-based financial planners, we offer a simple and transparent competitive advisory fee based on the size of your portfolio. This is designed to reduce conflicts of interest, align our incentives, and put you in the best possible position for success." This is just one example of the questionable assurances that the curious can find on AIGL Investment Group's website. Not one of these given assurances by AIGL Investment Group has been kept. Moreover, AIGL Investment Group lacks the necessary license for such financial transactions. Sadly, the shady business behavior rather provides for bad experiences and disappointed investors!
AIGL Investment Group: Who is behind it?
Since the AIGL Investment Group makers do everything to conceal the true circumstances, it should certainly be difficult for investors to answer this question. This is not uncommon, as scammers mostly operate several of these websites with the same fraudulent business model. These are produced in stock, quickly put online, and just as swiftly taken offline again, plus the top-level domain is repeatedly changed to confuse financial regulators and law enforcement agencies. Nevertheless, the UK FCA issued a warning about AIGL Investment Group on 07/10/2022.
AIGL Investment Group: Who is the operator?
There is nothing usable on AIGL Investment Group's website in this regard. Admittedly, the company AIGL Investment Group Limited with the business address C/O Ap&Co., 102 Seymour Place, London, UNITED KINGDOM, W1H 1NF is stated, but the makers of AIGL Investment Group are not to be found under this address, after all, it is probably a case of identity theft. Besides, there is also the usual email address inquiry@aiglinvestmentsgroupltd.com, but no telephone number. The domain aiglinvestmentgroupltd.com was registered and anonymized only on 06.08.2022 with NameSilo, LLC. The company was already registered on 02/10/2015 by two Kuwaitis Faisal and Saud Almutairi, among others. Given this time gap, this may be a case of identity theft (cloning).
AIGL Investment Group: Scheme of Investment Fraud
Investment fraud constantly follows the same pattern: investors enter with a small sum - usually 250 euros - and quickly experience how this amount increases, so that they are ready to "invest" higher and higher sums. The disputes are brewing, immediately when investors want to have their money paid out, because now supposedly taxes, commissions, fees, or anything else must be paid all at once. Unfortunately much too sluggishly, most investors perceive that they have fallen for investment fraud and never the intention was to pay out the money again.

AIGL Investment Group: What help is there for investment fraud?
Many desperate investors wonder how to act in the case of investment fraud because criminal charges make little sense since such primarily serve the prosecution and not the recovery of the money. What help is available in the case of investment fraud and how do the affected investors get their money back? The lawyer specializing in investment fraud must know how to follow the money trail, because as they used to say, money is not gone, but unfortunately somewhere else. Now it can be added: It is difficult, but with the proper tools it is possible to systematically track money digitally - even if it was deposited with Bitcoin through a crypto exchanger.
RESCH Rechtsanwälte GmbH - Experience in investor protection since 1986
If you have been a victim of AIGL Investment Group and want to know if and how you can get your money back, call +49 30 885 9770 or fill out the questionnaire. You will receive a free assessment of your case.