Aide - It is undoubtedly investment fraud
22.09.2022
Aide Finance pretends that investors are provided with excellent opportunities to make money as quickly as safely when trading online at aidefinancial.com. Everything at Aide is investment fraud. Nothing is traded at Aide. Everything the investor sees on his screen is fake. Not a dime has been invested. The money has landed right in the pockets of investment scammers. Have you had similar experiences? What can investors who have been scammed by Aide? What help is available in case of investment fraud? How can investors get their money back from dubious providers?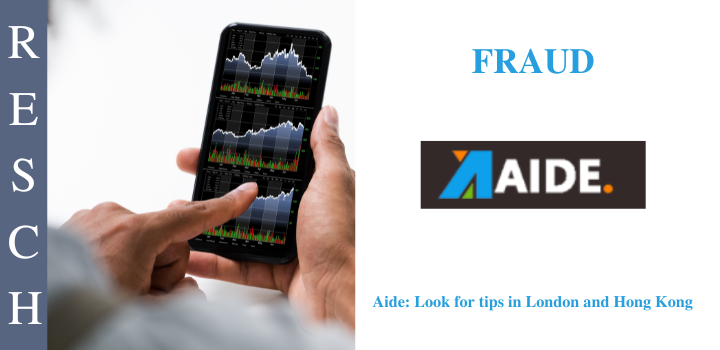 Aide: Untrustworthy and dubious statements on aidefinancial.com!
What are the unsuspecting investors on www.aidefinancial.com put there? "Some people think you have to choose between an online broker and an asset management company. With us, you don't have to compromise. Whether you invest on your own, with an advisor, or both together, we can help you... Trading cryptocurrencies, stock indices, commodities, and foreign exchange through a single account." That's just a small portion of the over-the-top promises investors can find on Aide's website. Not one of these full-bodied promises from Aide has been kept. Unfortunately, if anything, the troubling business practices make for unhappy investors and miserable experiences!
Aide: Domain entry is hidden!
Of course, the investment scammers don't want people to track them down easily. That is why the website does not have an imprint with the full details and the address of the website operators. Also, the domain data of the website aidefinancial.com does not contain any indication of who once registered the site, but only that the registration took place on 08.07.2022 at GoDaddy, LLC, and the real domain owners - quite expectedly for us - appear in an anonymous form.
Aide: Who is behind it?
Investors will not be able to answer this question. The investment scammers disguise their identity perfectly - almost. This is normal because they regularly operate various websites where they offer their fraudulent business model. In the course of our research, we also came across the domain aidefx.com, which was registered quite freshly on 08.09.2022, also anonymized, at GoDaddy, and which must have sprung from the same pen designed for rip-offs as aidefinancial.com, many overlaps indicate this.
Aide: Who is the operator?
On the Website aidefinancial.com there are only insufficient data in addition. The potential plant prospective customer finds there apart from the obligatory support email address support@aidefinancial.com besides still another contact telephone number, +852 53794403 with Hong Kong prefix, which does not permit however any conclusions on the operators of the platform. Also, the address Apartment 1804, 55 Upper Ground, London SE1 9EY in the United Kingdom remains about the platform responsible person a dead end, because one looks there in vain for a successful commercial empire à la Aide. Especially since this is a city apartment of only 55 m2, which is currently for sale.
Aide: Worldwide search
The searches for a possible Aide in the relevant registers led to no result. Aide is a fantasy product. We were indeed able to find Aide Financial Management Limited, which is also listed on aidefinancial.com, in the commercial register of the United Kingdom. It is listed there under the number 13618976. However, this entry in the commercial register raises questions. The company was already registered on 14.09.2021. Why, however, was the ostensibly associated domain aidefinancial.com only registered on 08.07.2022? A person born in 1987 and living in China named Peiying Sun was registered as the management. Who is this and where can we find this person? We question that we would like to have an answer to. With our research tools, our investigation team has managed to track down the investmfraudsters. It is probably only a matter of time before the regulatory institutions - also take notice of Aide and warn about their criminal activities.
Aide: Scheme of investment fraud
The investment fraud is apparently according to the well-known scheme: investors initially put in a small sum - usually 250 euros - and quickly experience how this amount multiplies so that they are willing to "invest" higher and higher sums. The problems open up, immediately if an investor would like to have its money paid out, because allegedly now all at once taxes, commissions, fees, or whatever must be paid. Unfortunately, many investors realize much too late that they have fallen for investment fraud and that there was never any intention to pay out the money again.
Aide: What help is there for investment fraud?
What to do in case of investment fraud, many defrauded investors ask themselves, but filing a criminal complaint hardly makes sense, because criminal complaints are mainly used for prosecution, but not for recovering the money. What kind of help can be used in investment fraud cases and how do affect investors get their money back? The lawyer specializing in investment fraud must know how to follow the money trail, because as it was said in the past, money is never gone, only somewhere else. Nowadays, one can add: It is complex, but with the right tools it is possible to track money systematically digitally - even if it was transferred with Bitcoin via a Crypto Exchanger.
RESCH Attorneys at Law - Experience in investor protection since 1986
If you have been a victim of Aide Financial Management and want to know if and how you can get your money back, call +49 30 885 9770 or fill out the questionnaire. You will receive a free assessment of your case.