Agrefunds Asset – The website may be a scam
12.06.2023
Our research department has gathered important information regarding Agrefunds Asset (Agrefunds-Asset). Agrefunds Asset creates the impression that it offers investors the best opportunities to earn quick and secure money through investments in pre-IPO stocks, cryptocurrencies, and securities. At Agrefunds Asset, it's all investment fraud. Not a single cent has been invested. Everything the investor sees on their screen is fake. Nothing is being traded on agrefunds-asset.com. The money has gone straight into the pockets of the fraudsters. Have you had similar experiences? What help is available for investment fraud? What can investors do if they have been defrauded by Agrefunds Asset? How can investors retrieve their money from unreliable providers?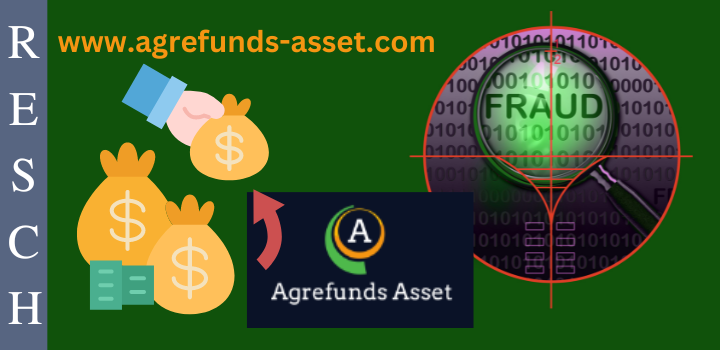 Agrefunds Asset: Suspicious and untrustworthy promises on agrefunds-asset.com
What do surprised investors read on www.agrefunds-asset.com? At first glance, agrefunds-asset.com appears quite solid. There is direct communication, supposedly interesting offers, and a mention of support from employees that are supposed to lead to convincing returns and profits. The employees of Agrefunds Asset are said to be experts in agriculture, stocks, gold, real estate management, oil and gas, and trading. This diversity seems quite convincing. As an unsuspecting investor, you are unable to recognize that you are merely being presented with a play and not a single cent of your money is being invested. Instead, your money ends up directly in the pockets of the perpetrators. Unfortunately, these dubious business practices lead to unhappy investors and terrible experiences!
Agrefunds Asset: Who is behind it?
Agrefunds Asset lacks revealing imprint information, making identifying the perpetrators difficult. The domain data of agrefunds-asset.com does not provide any indication of who registered it, only that the registration took place on January 11, 2023, with NameSilo, LLC, and the domain owners are hiding behind the anonymity service PrivacyGuardian, LLC. It is perplexing that agrefunds-asset.com claims that the company's roots date back to 2013; elsewhere, they claim to have seven years of experience. Both do not match. Why does the website only exist since 2023? Additionally, the claim that the terms and conditions were last updated on January 1, 2022, does not align with the registration in 2023.
But who operates the Agrefunds Asset scheme?
Many platforms look almost identical, such as Centochain (centochain.com), Extrochain (extrochain.com), or DefiGroupinv (defigroupinv.com), to name a few. All of them originate from the same source as Agrefunds Asset. In addition to the obligatory support email address info@agrefunds-asset.com, potential investment prospects are denied a telephone number on the Agrefunds Asset website, as well as the mention of a managing director. The address provided is 1 Great George St, London SW1P 3AA, and GPS coordinate @51.501128,-0.129027 are also shown. Not a bad area, but unfortunately, there is no company named Agrefunds Asset to be found there.
Agrefunds Asset: International Investigations
A worldwide search for Agrefunds Asset in relevant registers yields no results. Agrefunds Asset is a fantasy product. Although skeptics are provided with a registration document from the United Kingdom on the website, it is a crude forgery. Such a company does not exist in the UK's commercial register. However, with our research tools, our investigative team has managed to pick up the trail of investment fraudsters. It is only a matter of time before regulatory institutions also take notice of Agrefunds Asset.
Agrefunds Asset: Investment Fraud Scheme
Investment fraud follows the same pattern continuously: Initially, investors deposit a small amount, usually 250 euros, are impressed by how quickly this amount multiplies, and are therefore willing to invest higher sums. The trouble arises every time an investor wants to withdraw their money because suddenly taxes, commissions, fees, or something else has to be paid. Unfortunately, most investors realize far too slowly that they have fallen victim to investment scammers who never intended to return the money.
Agrefunds Asset: What help is available for investment fraud?
Many affected investors wonder what to do in the case of investment fraud since filing a criminal complaint hardly makes sense as criminal complaints mainly serve the purpose of prosecution, not recovering the money. What kind of assistance is available for investment fraud, and how can affected investors recover their money? An attorney specializing in investment fraud knows how to follow the money trail because, as the saying goes, money is never lost, it's just elsewhere. In the present, it can be added: It is not easy, but with the right tools, it is possible to systematically trace digital money, even if it has been deposited through a crypto exchanger using Bitcoin.
RESCH Rechtsanwälte – Experience in Investor Protection since 1986
If you have become a victim of Agrefunds Asset and want to know if and how you can recover your money, call us at +49 30 885 9770 or fill out the questionnaire. You will receive a free assessment of your case.