Advancia - FINMA rightly warns against the unscrupulous online broker
10.07.2023
The desire for financial freedom and profitable investments drives many people to seek investment opportunities. Unfortunately, the internet is full of fraudulent companies that do nothing but make empty promises. A recent example of this is Advancia on advancia.ch. We shed light on Advancia's fraudulent activities and show you how to protect yourself against investment fraud. Additionally, we answer the question of what help is available to investors who have become victims of fraud.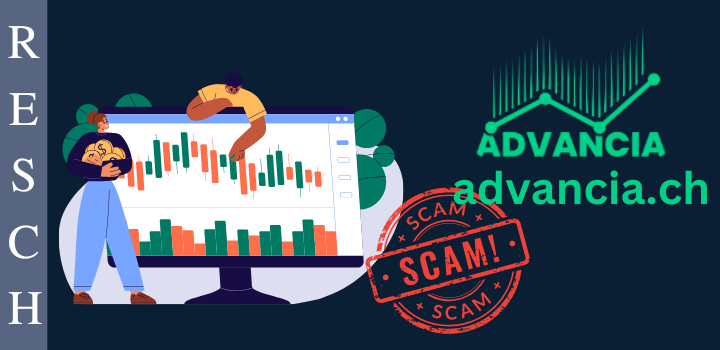 Advancia: A Closer Look at the Fraud Behind the Scenes
Advancia claims to be a trustworthy broker that offers its customers excellent opportunities to earn money quickly and safely. But in reality, Advancia is nothing but a scam. No trading occurs on the advancia.ch website, and not a single cent is invested. Everything the investor sees on their screen is merely deceptive. The invested money promptly ends up in the pockets of the scammers. Many investors have already had similar experiences and have been disappointed by Advancia. But how do they evaluate the questionable business practices on advancia.ch? And what can they do if they have become victims of Advancia?

Advancia: Suspicious Claims on the Website
When unsuspecting visitors access the advancia.ch website, they come across a series of suspicious promises: "We are a trustworthy broker that takes care of its customers. We demonstrate this through our excellent customer support and the fantastic trading environment we have created. The environment was created by financial experts who are well-versed in the world of trading. We have used this knowledge and experience to create an environment that caters to the needs of all traders, regardless of their experience." Advancia pretends to be a trustworthy broker that takes care of its customers and provides a fantastic trading environment. However, none of these promises are upheld. Advancia's business practices leave behind bad experiences and disappoint investors.

The Masterminds and Fraudulent Practices of Advancia
The operators of Advancia do everything to conceal their true identity. It is extremely difficult to find out who is actually behind Advancia. Often, scammers operate multiple websites with the same fraudulent business model. They produce these sites in advance, quickly put them online, and take them offline just as quickly. They also regularly change the top-level domain to confuse financial regulatory and law enforcement authorities. FINMA has already issued a warning about Advancia to protect investors from their fraudulent activities. In this case, the Swiss Financial Market Supervisory Authority (FINMA) has not been deterred from issuing a warning about Advancia.

Advancia: The Typical Course of Investment Fraud
Investment fraud follows a well-known pattern. Initially, investors deposit a small sum and see this amount seemingly multiply. This lures them into investing larger sums. However, problems arise when an investor wants to withdraw their money. Suddenly, alleged taxes, commissions, fees, and other costs become due. Many investors realize too late that they have fallen for fraudsters who never intended to repay the money.

Questions and Answers
Question: What help is available for investment fraud?
Answer: A criminal complaint alone often does not lead to the recovery of the money. However, investors can seek the assistance of a lawyer specializing in investment fraud. Such lawyers know how to trace the money trail to recover the funds, even if they were deposited via Bitcoin and crypto exchanges.
Question: What can investors do if they have been defrauded by Advancia?
Answer: Affected investors should contact the relevant law enforcement authorities. They should also seek the assistance of an experienced lawyer specializing in investment fraud to take legal action and reclaim their invested money.

Advancia: Gathered Bad Experiences - What Comes Next?
Advancia is an example of a fraudulent company that presents itself as a trustworthy broker but does nothing more than make empty promises. Protecting oneself from such fraudulent practices is important by conducting thorough research and not being blinded by exaggerated profit promises. If you have become a victim of investment fraud, you should seek legal advice immediately and inform the appropriate authorities. Together, we can combat investment fraud and hold the responsible parties accountable.

RESCH Rechtsanwälte GmbH - Experience in Investor Protection since 1986
If you have become a victim of Advancia and want to know if and how you can recover your money, call us at +49 30 885 9770 or fill out the questionnaire. You will receive a free assessment of your case.