FCA warns about Access Merchant Bank scams (accessmb.org)
14.08.2023
Read experiences and reviews about Access Merchant Bank, a company that claims to be a bank. But beware. The Financial Conduct Authority (FCA) warns of possible scams and says they do not authorize the company. We look closer at what's behind the warnings and the risks of working with them.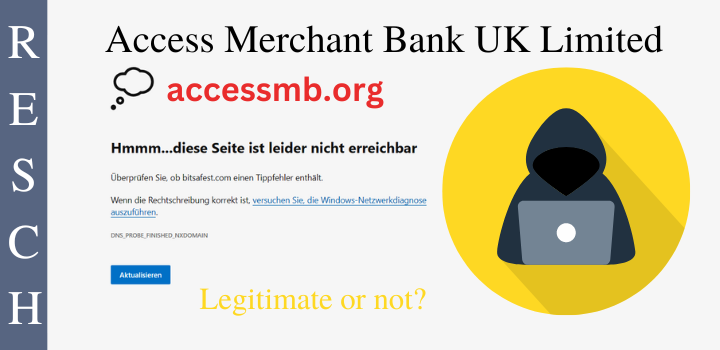 Overview of Access Merchant Bank and the FCA's warnings
Access Merchant Bank was first warned by the FCA on 08/03/2023 as it may be offering financial services or products without the necessary authorization. The FCA recommends that you avoid doing business with this company and be wary of potential scams. The company is not authorized by the FCA. This means that it does not meet the strict regulatory standards that apply to financial services providers in the UK.

False contact information on accessmb.org
Another troubling finding is that Access Merchant Bank may be providing incorrect contact information. The addresses listed for Access Merchant Bank UK Limited are Bullring & Grand Central, Moor St, Birmingham, B5 4BU, and Banking Hall, 14 Cornhill, London, EC3V 3ND. These may be shell companies and bogus addresses. To contact them, investors are offered the two UK telephone numbers +44 7701 419019 and +44 703 1914 050, and the email address support@accessmb.org.

FCA warning
In its warning, the FCA stresses that working with Access Merchant Bank will result in a lack of access to the Financial Ombudsman Service. This means that in the event of a complaint, there is no expectation of assistance from an independent arbitration service. In addition, the company does not offer protection under the Financial Services Compensation Scheme (FSCS). If the company goes out of business or there are irregularities, customers are unlikely to get their money back.

Avoid fraud risks: Work only with authorized financial firms
The FCA strongly advises that you only work with financial firms that it has authorized. A simple check on the Financial Services Register can tell you whether a firm is authorized to provide financial services. The FCA website also provides information on how to protect yourself and contact details for authorized firms.

Access Merchant Bank: Suspicious Signs
It is important to be cautious if you are unexpectedly contacted by a financial company. Scammers sometimes pose as legitimate companies. To make sure you are communicating with the real company, it is advisable to check their details and report the incident if you suspect fraud. Checking the domain data, we noticed that accessmb.org was registered with NameCheap, Inc. only on 06/28/2023 and anonymized with Withheld for Privacy ehf.

Frequently asked questions about Access Merchant Bank
Question: Is Access Merchant Bank a legitimate bank?
The FCA warns that the company is not authorized by them, which indicates possible fraud. You should therefore exercise extreme caution.
Question: How can I check if a company is authorized by the FCA?
You can use the Financial Services Register on the FCA website to check whether a company is authorized and eligible for the services it offers.
Question: What happens if I work with an unauthorized firm?
If you work with an unauthorized firm, you will not have access to the Financial Ombudsman Service and will not be protected by the FSCS. If something goes wrong, there is an increased risk that you will not get your money back.

In conclusion, stay away from Access Merchant Bank
Access Merchant Bank advertises financial services but is not authorized by the FCA. The FCA warns of possible scams and customers may be left without support in case of problems. It is advisable to work only with authorized financial companies and to inform the FCA in case of suspicious incidents.

RESCH Attorneys at Law - Experience in investor protection since 1986
If you have been a victim of Access Merchant Bank (accessmb.org) and want to know if and how you can get your money back, call +49 30 885 9770 or request a call back from a specialist investment fraud lawyer. You will receive a free assessment of your case.