ACA - Fake addresses in England and Sweden
16.03.2023
The ACA (Alternative Consulting of Asset) implies that investors are offered perfect opportunities to make money with supposedly alternative investments as fast as safe. With ACA, everything is investment fraud. Not a cent has been invested. Everything the investor sees on his screen serves to mislead. The money has landed right in the pockets of investment scammers. Nothing is traded on ac-asset.com. Can you report on similar experiences? What can investors do who have been defrauded by ACA? How can investors get their money back from dubious providers? What help is available in case of investment fraud?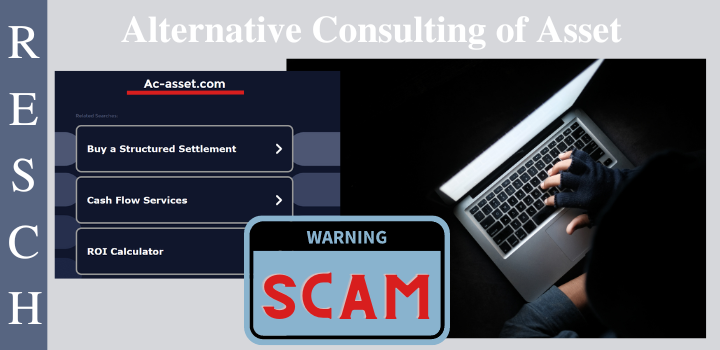 ACA: Untrustworthy and dubious promises on ac-asset.com!
You have noticed that the website ac-asset.com makes a very professional impression. A direct approach, supposedly interesting offers as well as the reference to support by the employees, which is supposed to lead to a convincing return on investment and profits. All this seems very convincing. As an unsuspecting investor, you are not in a position to realize that you are merely being played a game and that not a single cent of your money is being invested. All the money ends up right in the pockets of the perpetrators, who of course do not trade with the investors' money either. Everything is just staging and illusion.
ACA: Who is behind it?
The ACA site does not contain a revealing imprint, which is supposed to prevent the perpetrators from being too easy to identify. Also, the domain data of the website ac-asset.com does not contain any hint of who once registered the site, but only that the registration took place on 13.05.2021 at FastDomain, Inc. and that the real domain owners - quite expectedly for us - hide behind an anonymization service Domain Privacy Service FBO Registrant.
ACA: Who is the operator?
In addition to the obligatory support e-mail address info@ac-asset.com, the telephone number +44 2037694354 with British country code, as well as +46 313115084 with Swedish country code are listed for the potential investment prospect, but this does not allow any conclusions to be drawn about the operators of the platform. We can also neglect the addresses Crosswall, One America Square, London EC3N2LB in the United Kingdom and 2 Grafiska vägen, 41263 Gothenburg, Västra Götalands Län in Sweden in our search for the platform operators, because a company called Alternative Consulting of Asset never existed there, no trace of it. Also, the statement on the website that a Frankfurt location is allegedly in preparation has simply been fabricated by the scammers.
ACA: International searches
The worldwide search for the Alternative Consulting of Asset in the relevant registers leads to no results. The Alternative Consulting of Asset is a fantasy product. But with our research tools, our Investigations Team has succeeded in tracking down investment fraudsters. It remains only a matter of time before other regulatory institutions will also take notice of Alternative Consulting of Asset and warn about their criminal activities.
ACA: Scheme of Investment Fraud
The investment fraud runs again and again after the same pattern: Investors put in at the beginning a small sum - usually, 250 euros -, and experience fast, how this amount multiplies so that they are ready to "invest" ever higher sums. The discords open, immediately if an investor would like to have paid out its money, because now ostensibly all at once taxes, commissions, fees, or whatever must be paid. Many investors understand much too late that they sat on an investment fraud and never the intention existed to disburse the money again.
ACA: What help is available for investment fraud?
How to act in the case of investment fraud, many aggrieved investors ask themselves, since filing a criminal complaint makes little sense, because criminal complaints primarily serve the purpose of criminal prosecution, but not the recovery of the money. What kind of help can be used in case of investment fraud and how do investors get their money back? The lawyer specializing in investment fraud must know how to follow the trail of money, because as they used to say, money is never gone, but unfortunately somewhere else. Now one can add: It is complex, but with the proper tools it is possible to track money digitally on a regular basis - even if it was transferred with Bitcoin via a Crypto Exchanger.
RESCH Rechtsanwälte GmbH - Experience in investor protection since 1986
If you have been a victim of ACA and want to know if and how you can get your money back, call +49 30 885 9770 or fill out the questionnaire. You will receive a free assessment of your case.