Invcenter.com - Financial Market Authority warns against investment fraud
The alleged online broker INVcenter.com pretends to be a reputable provider of online trading. On its domain Invcenter.com, it offers trading in so-called Contracts for Differences (CFDs) and Forex trading (currency trading). However, there are increasing indications that Invcenter.com does not operate as traders expect. More and more Invcenter.com users are coming forward and reporting telephone terror, rip-offs and investment fraud. Many traders have completely lost their capital invested with Invcenter.com, although their trading was successful. They are right to ask how they can get back the capital they invested on Invcenter.com. What are the concrete options for investors who have been cheated by Invcenter.com? What can the traders harmed by Invcenter.com do now? Where can the victims of Invcenter.com get help?
Invcenter.com: Addresses
On the website the address First floor, First St. Vincent Bank Ltd. Building, James street, P.O.B 1574, Kingstown VC0100 St. Vincent and the Grenadines is given. Registered traders were contacted from the following email addresses: adamw@invcenter.com, alicew@invcenter.com, angelaj@invcenter.com, averyh@invcenter.com, backoffice@invcenter.com, billing@invcenter.com, damians@invcenter.com, gregl@invcenter.com, jackm@invcenter.com, marye@invcenter.com, rosea@invcentet.com and support@invcenter.com.
Invcenter.com: Telephone numbers
Cold calls and other calls were made, according to various victims of Invcenter. com, via the U.K. telephone numbers +44 121 790 0913, +44 122 492 8659, +44 122 492 8883, +44 122 563 7126, +44 161 394 1925, +44 161 394 2088, +44 203 318 7919, +44 203 818 7316, +44 203 868 0189, +44 203 868 1172, +44 203 868 1316, +44 203 868 7862, +44 203 954 6356, +44 203 991 0009, and +44 774 368 2181.
Invcenter.com: website and its operators
The domain was registered on April 15, 2011. The site is accessible in English, German and Portuguese. For some time Invcenter.com has been used by Advanced Software Solutions Ltd. This claims to have a registered office on the second floor, in the First St. Vincent Bank building on James Street, in Kingstown on the Caribbean islands of St. Vincent and The Grenadines. However, a registration number is not provided. Traders are offered four different account types. There is the MINI account with the minimum deposit amount of $200, the SILVER account with the assistance of a senior account manager, the GOLD account with a VIP account manager, and the PLATINUM account with a trading trainer and exclusive position access.
Invcenter.com: indications of investment fraud
Did Invcenter.com employees offer you a bonus? Did someone else withdraw money from your Invcenter.com account? Has the login to your Invcenter.com account been failing for some time? Are your calls to Invcenter.com no longer being answered? Is the trading account at Invcenter.com frozen? Did they ask you to deposit more money into Invcenter.com account after major losses? Is the Invcenter.com website suddenly offline? Has your Invcenter.com account been suspended? Any question answered in the affirmative is an indication of investment fraud.
Invcenter.com: The investment scammers' modus operandi - sounding off
Invcenter.com offers are advertised on social media and appropriate forums. Further, the methods of social engineering are used. After a prospective customer has registered, soon receives a phone call. During these seemingly casual phone calls, prospects are quizzed without being noticed. On this occasion, Invcenter.com callers sometimes try to gain permanent, unnoticed access to traders' devices under the pretext of setting up the software.
Invcenter.com: the investment scammers' approach - trading
The minimum deposit of 200 euros to the Invcenter.com account is only the beginning. In addition, it is important to know that the victims are only made to believe that they are trading on Invcenter.com. Traders can be manipulated in this way much easier. After a few profits, the traders are made to understand that in order to make big profits, they also need to invest more. That is why the other account types lure with senior or VIP account managers.
Invcenter.com: Investment scammers' approach - manipulations
Because so much information has been collected in the preliminary discussions, the perpetrators now have an easy game. They can use the various manipulation techniques to generate disappointment or euphoria, as needed, and in this way gain control over the victim. This only succeeds in a time window. In this window they wrest higher and higher stakes from the trader. Only when he has no more money or he finally becomes suspicious, the said time window closes.
Invcenter.com: The approach of the investment scammers - squeezing instead of payout
Of course, the investment scammers of Invcenter.com do not think of returning even a part of their loot. First of all, the victim is stalled as long as possible with made-up stories, such as an audit by a tax office, suspicion of money laundering or something similar. At some point, an allegedly external agency suddenly and unexpectedly contacts the victim. The victim is told that the desired amount is now ready for transfer. All that remains is to pay the tax, the commission for the account manager or something else. However, this is just an attempt to rip off the victim one last time.
Invcenter.com: The investment scammers' approach - blocking and chargeback
Once there is nothing left to get out, the connections between Invcenter.com and the treader are cut off forever. Phone numbers and email addresses are blocked. All contact attempts are rejected. Then the hour of chargeback providers with domain names, such as Brokercomplaintregistry, Brokerdispute or Scamrecovery work with the same methods as those of fraudulent brokers. They promise the victims, who are often still in shock, to get the money back from the fraudulent online brokers. Of course, they demand a high commission for this - in the form of an advance payment. If the money is transferred, the again cheated ones are blocked just as before with the broker.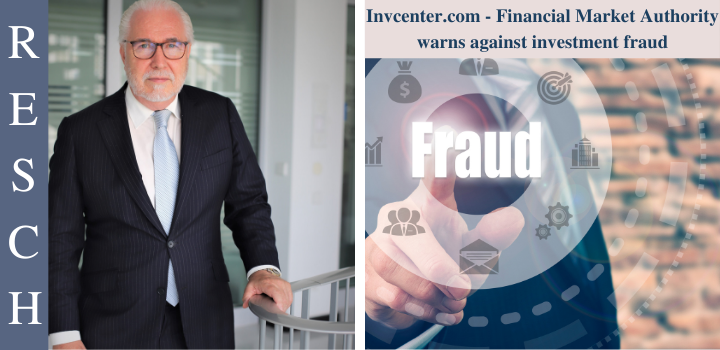 Invcenter.com: Investment fraud?
There is no regulation or legitimization of the online broker Invcenter.com. There is no authorization by a recognized European supervisory authority, such as the British Financial Conduct Authority (FCA) or the Cyprus Securities and Exchange Commission (CySec), which is often used by brokers. Likewise, the authorization of the Federal Financial Supervisory Authority (BaFin), which is responsible for Germany, is missing. There is even a warning from the FCA. Likewise, Invcenter.com appears in the warning list of the Italian Commissione Nazionale per le Società e la Borsa (CONSOB). That this is a scheme of capital investment fraud is hard to miss. Therefore, one can only advise the victims of Invcenter.com to consult an investment fraud lawyer immediately.
Invcenter.com: where are the scammers active?
We are dealing with Invcenter.com investment fraud in Germany, Switzerland and Austria. So Invcenter.com's activities were by no means limited to the DACH region. Because Invcenter.com is also targeting traders in Portugal and Brazil, it is only a matter of time before more fraudsters come forward from there as well. A look at the list of regulators is advisable before any financial commitment with a new online broker. Another question is from where the scammers operate. Possibly from Russia, as some traders' remittances were transferred to banks in Russia.
Invcenter.com: Claims for damages against banks
For financial services and investment transactions in Germany, a permit from the Federal Financial Supervisory Authority (BaFin) is an absolute requirement. Doing, supporting or enabling such business, even cross-border into Germany, is prohibited. Persons and companies who nevertheless participate are obliged to pay damages to the traders concerned. This also applies to banks involved, which have failed to check account holders and money flows through their accounts. Such investment fraud cases would hardly have been feasible without such banks.
Invcenter.com: Investor situation
The situation is not as hopeless as it seems. You can fight back and hope to get your money back. Even if it is not possible to catch the Invcenter.com investment scammers at the moment. After all, the money transactions were made through accounts provided by reputable financial institutions. They undoubtedly failed to check the large sums transferred for illegality. Such omissions made the investment fraud possible in the first place.
Invcenter.com: Help with investment fraud
What to do in case of investment fraud? What help in case of investment fraud can the victims of Invcenter.com claim? With an experienced investment fraud lawyer, traders defrauded by Invcenter.com can ideally find help. He or a trading attorney is able to take care of your Invcenter.com case. This means to pursue the criminal aspects of the investment fraud as well as to pursue the recovery of the funds in parallel and to claim the possible damages from the banks involved.
Invcenter.com: Investors want their money back!
With this knowledge probably nobody would have got involved in business with Invcenter.com. Now the only option left for the aggrieved parties is to seek redress. To do this, questions must be clarified. Where did the money embezzled from Invcenter.com go? Is there any way to get back the capital invested with Invcenter.com?
Invcenter.com: Follow the money trail!
For more than 30 years, the investor protection law firm Resch Rechtsanwälte has been following the abuses on the gray capital market. The methods and approach of Invcenter.com are nothing really new when viewed in this light. Over time, Resch Rechtsanwälte has developed an extensive range of tools for tracking down and tracing money trails. In times of the Internet, it has become almost impossible to actually make funds disappear. The important thing is to act without delay. The faster we follow the money trail, the greater the chances that you will get back your invested capital.
RESCH Attorneys at Law - Experience in investor protection since 1986
Are you a victim of Invcenter.com investment scammers? Do you want to know if and how you can get back your money invested with Invcenter.com? Please fill in the questionnaire or call us. You can reach us at +49 30 885 9770 and get a free assessment of your case.