Wirex - This is investment fraud
21.10.2022
The digital payment platform Wirex pretends to provide investors with ideal conditions to make money with cryptocurrencies both quickly and safely. However, at Wirex, everything is investment fraud. What the investor sees on his screen is deception. Not a penny has been invested. The money has landed right in the pockets of investment scammers. Nothing is traded at Wirex. Have you had similar experiences? What can investors do who have been defrauded by Wirex? What help is available in case of investment fraud? How do investors get their money back from dubious providers?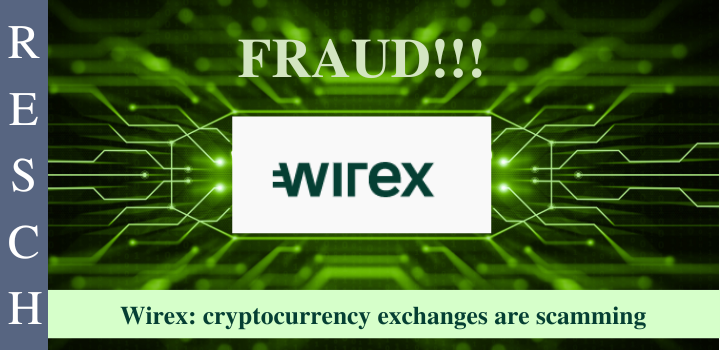 Wirex: Unbelievable and dubious assertions on wirexapp.com!
What are unsuspecting investors being presented with on wirexapp.com? "We are Wirex - and we have made it our mission to make cryptocurrencies accessible and available to everyone. Open a free account, in minutes. It gives you instant access to a variety of crypto and traditional currencies in the palm of your hand, unbeatable OTC exchange rates, DeFi-powered earning, and next-gen rewards." That's just a small sample of the suspect promises that curious minds can find on Wirex's website. Not one of these given promises by Wirex has been kept. Unfortunately, shady business practices tend to make for unhappy investors and bad experiences!
Wirex: Experiences of other users
If you read the reviews and experience reports in the relevant user forums, which experiences were made with Wirex, you can be afraid and anxious. Credits disappear, user accounts are frozen or blocked for months, customer service does not answer at all or only with standard phrases, and investors are stalled with dubious demands, for example by being asked again and again to verify something that they have already verified several times. With such delaying tactics the investment fraudsters win only time. In the end, investors are left looking down the tube.
Wirex: Who is behind it?
Answering this question will be quite difficult for most investors, as the Wirex makers do everything they can to conceal the true circumstances. However, this is nothing out of the ordinary because the perpetrators usually run several of these websites with the same fraudulent business model. Such are produced continuously, uploaded to the Internet without ceasing, and taken offline just as swiftly, moreover, the top-level domain is often changed to confuse financial regulators and law enforcement agencies.
Wirex: Who is the operator?
The Wirex website has a lot to say about this. For example, the companies Wirex Digital D.o.o with the address Slavonska avenija 1C, Zagreb Croatia, Wirex Limited with the address 8 Devonshire Square, Liverpool Street, London, EC2M 4PL, Wirex Ireland Limited with the address 2 Dublin Landings North Wall Quay Dublin 1, D01 V4A3 and Wirex, UAB with the address Perkūnkiemio g. 13-91, LT-12114 Vilnius, under which the makers of Wirex are unfortunately not to be found, apparently it is difficult to overview the company network. In addition, wirexapp.com also contains a support e-mail address, but no telephone number. The domain wirexapp.com was registered back in 2015, but on 12/12/2020 there was an update indicating a change of ownership of the domain. Since then, complaints about Wirex have increased significantly.
Wirex: investment fraud scheme
The investment fraud continuously follows the well-known scheme: investors initially put in a small sum - usually 250 euros - are impressed by how quickly this amount increases and are therefore willing to "invest" higher and higher sums. The problems develop as soon as investors want to have their money paid out, because then ostensibly at once taxes, commissions, fees, or something else must be paid. Much too late, most investors realize that they have fallen for investment scammers who never intended to pay out the money again.

Wirex: What help is there for investment fraud?
What to do in case of investment fraud, many desperate investors ask themselves, because filing criminal charges makes little sense because criminal charges are primarily for prosecution, not for recovering the money. What help is available for investment fraud and how do aggrieved investors get their money back? The lawyer specializing in investment fraud must know how to follow the money trail because as they used to say, money is not gone, it's just somewhere else. Now you can add to that: It is not easy, but with the right tools it is possible to systematically track money digitally - even if it was transferred with Bitcoin via a Crypto Exchanger.
RESCH Attorneys at Law - Experience in investor protection since 1986
If you have been a victim of Wirex and want to know if and how you can get your money back, call +49 30 885 9770 or fill out the questionnaire. You will receive a free assessment of your case.